'You Are Not Alone', Pope Tells Argentinian Woman Allegedly Raped by Police Officer in Surprise Call
'You Are Not Alone', Pope Tells Argentinian Woman Allegedly Raped by Police Officer in Surprise Call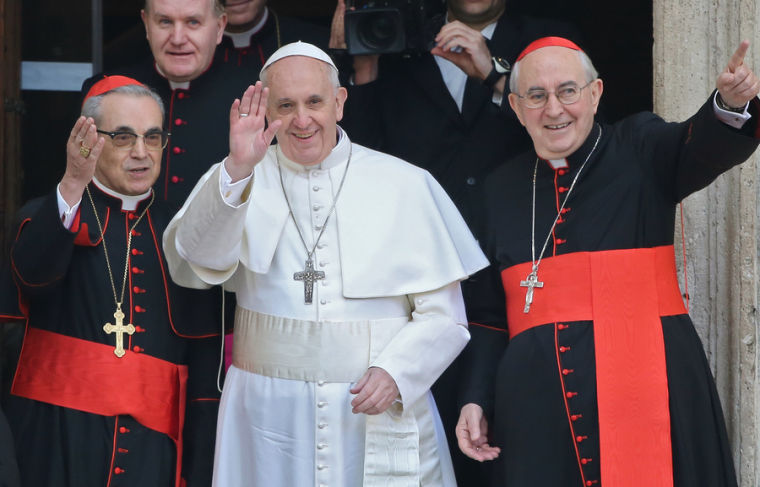 Pope Francis continued his unorthodox reign from the Vatican this week by placing a surprise call to tell a 44-year-old Argentinian woman who claims she was raped by local police, "you are not alone."
"The Pope told me he receives thousands of letters each day, but that what I wrote moved him and touched his heart," the woman told the National University of Cordoba's Canal 10 TV station, according to an EWTN News report.
The woman said in the report that she had written to Pope Francis for help, explaining to him how she had been raped twice by the local police officer who then turned around a threatened her.
On Sunday, her cell phone rang and when she answered it and asked who it was the voice said: "It's the Pope."
"I was petrified," said the woman. "When I heard the Pope's voice, it was like feeling the hand of God."
She said their conversation lasted approximately half an hour and focused on "faith and trust."
"The Pope listened attentively to my story," said the woman. "I'll do anything now to go to the Vatican. He told me he would meet with me."
The woman claims local officials have covered up the rapes and have refused to listen to her story. Her alleged perpetrator has even been given a promotion she said.
Pope Francis' call, she explains, has given her hope.
"Now I know that I am not alone and I will pick myself up again," she said. "The Pope told me that I am not alone and that I should have faith that justice will be done."
Since he became Pope in March, Pope Francis has reportedly made a series of similar surprise calls to various individuals including an Italian man who has struggled to forgive God after his brother was murdered.
Other call recipients include a young doorman at the Jesuit motherhouse in Rome, the Pope's shoemaker in Argentina, and the owner of the kiosk in Buenos Aires that delivered his daily paper, according to EWTN.