Young American Couple Arrested for Trying to Join ISIS During Honeymoon; Accused Is Policeman's Daughter; Family 'Stunned'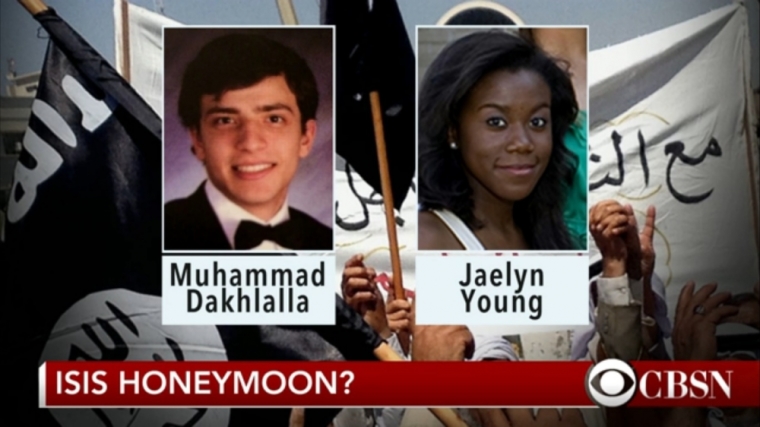 A young American couple from Mississippi who were arrested over the weekend and accused of trying to join the Islamic State terror group in Syria planned to use their honeymoon as a cover-up, authorities have said.

CNN reported on Wednesday that 20-year-old Jaelyn Delshaun Young and 22-year-old Muhammad Oda Dakhlalla are facing federal charges of conspiring and attempting to provide material support and resources to the jihadists.
While Dakhlalla has been identified as the son of a local imam, Young is the daughter of a Vicksburg, Mississippi, police officer, reports added.
CBS News noted that the families of the accused have been left stunned by the couple's alleged plot.
Dakhlalla's relatives were "absolutely stunned" by the arrest but are cooperating with the FBI, revealed Dennis Harmon, an attorney representing the family.
The young man was a Mississippi State University student, and had graduated in May with a bachelor's degree in psychology. MSU spokesman Sid Salter said Young was also enrolled as a sophomore chemistry major.
The couple's plans to join IS were reportedly unraveled by two undercover FBI agents who communicated with the Americans via social media over the past several months. Authorities allege that Young came up with the plan to marry Dakhlalla so the two could travel to Syria together. Young said that the two married sometime in June, and were planning to travel to Syria via Europe using their honeymoon as a cover up.
The couple also advertised the skills they planned to help IS with.
"I am good with computers, education and media," Dakhlalla allegedly wrote.
Young added: "I am skilled in math and chemistry and worked at an analytical lab here on my college campus. My partner is very good with things like computer science/media. We learn very fast and would love to help with giving medical aid."
Assistant U.S. Attorney Clay Joyner has urged the court to keep the suspects in custody, noting that they have embraced extremist thinking.
"They don't need a gun to do harm," Joyner said. "They don't need military training to do harm. What they need is a violent, extremist ideology, and that's exactly what they have espoused."
IS, which has been boosted by tens of thousands of foreign troops in its mission to establish an Islamic Caliphate on the territory of Iraq and Syria, has reportedly attracted a number of American citizens to fight for its cause.
29-year-old Somali-American Abdirahmaan Muhumed of Minneapolis was also found to have been radicalized by the extremists' message before he died fighting for IS in 2014.
Muhumed said in messages later released by authorities that "a Muslim has to stand up for [what's] right," and that he will "give up this worldly life for Allah."