Martin Luther King Jr. was a great man with a blind spot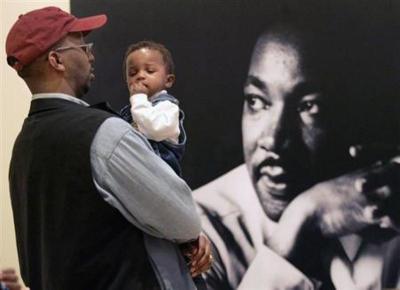 I know the memories of our historical heroes are sacrosanct. Many dare not speak of the corruption of such men and women for fear of erasing or diminishing their achievements. While I have celebrated Martin Luther King Jr.'s history-changing eloquence on individual and societal morality and his relentless pursuit of justice, I can't ignore his blind spots.
Yes. I am the beneficiary of his indefatigable non-violent fight for equality. I'm someone adopted into a multi-ethnic family of 15, where "black brothers and black sisters" literally "join hands with white brothers and white sisters." I'm someone married to an amazing woman – the love of my life – whose hue of skin is quite different than my own. I'm someone who loves his four mixed children of varying hues of brown and am thankful that the America they live in has changed so dramatically and beautifully for the better.
In the acceptance of the inaugural Margaret Sanger Award in 1966, Dr. King said, "Like all poor, colored and white, they have many unwanted children. This is a cruel evil they urgently need to control." As a supposed "unwanted child" (we're all wanted by someone) I could have been the casualty of some of this rhetoric.
Of course, Sanger was the racist and elitist eugenicist who founded Planned Parenthood.
Children are not a "cruel evil." They committed no crime by coming into being. The evil is a worldview that sees human life as something to eliminate instead of to elevate.
King's speech went on: "There is a striking kinship between our movement and Margaret Sanger's early efforts." Her early efforts? You mean to spread the vile cancer that was eugenics to the whole world? She preached a venomous narrative that many were merely human weeds. Did Dr. King ever read a single word she wrote?
In her book, Pivot of Civilization, she had this to say of the "cruelty" of charities: "It encourages the healthier and more normal sections of the world to shoulder the burden of unthinking and indiscriminate fecundity of others; which brings with it, as I think the reader must agree, a dead weight of human waste. Instead of decreasing and aiming to eliminate the stocks that are most detrimental to the future of the race and the world, it tends to render them to a menacing degree dominant."
These aren't words taken out of context. These words are the entirety of her context.
My dear friend Dr. Alveda King, the niece of Dr. Martin Luther King Jr., thoroughly explains why she believes MLK never wrote the speech. For one, there's never one mention of God. He always invoked the Almighty.  Always. My issue is that he had the opportunity to distance himself from it all but chose not to do so. He even wrote to the president of the Planned Parenthood Executive Committee afterward and reiterated how honored he was to receive the award.
Dr. Alveda King believes his wife, Coretta, actually wrote and delivered the speech at the Shoreham Hotel. Just for the record, Coretta was a Sanger "fan girl." Before reading King's alleged words, she proclaimed: "I am proud tonight to say a word in behalf of your mentor, and the person who symbolizes the ideas of this organization, Margaret Sanger. Because of her dedication, her deep convictions, and for her suffering for what she believed in, I would like to say that I am proud to be a woman tonight."
Sanger called a huge swath of human beings "human waste." She looked forward to the "gradual suppression, elimination, and eventual extinction of defective stocks—those human weeds which threaten the blooming of the finest flowers of American civilization." Those were Sanger's deep convictions.
Dr. King went on to bizarrely proclaim in his Sanger Award acceptance speech: "She launched a movement which is obeying a higher law to preserve human life under humane conditions." What higher law? The law of eugenics? And her organization would go on to destroy millions of human lives under inhumane conditions.
While it is true that in 1966 abortion wasn't legal, Planned Parenthood had been fighting court and cultural battles for years to legalize it. Dr. King allowed his fame and his words to be exploited by Planned Parenthood by his solidarity with them. Four years after King's undeserved praise of Sanger's lethal legacy, her federation started killing those "unwanted" children in its first abortion mill – located in Syracuse, New York – when the Empire State legalized the violence of abortion in 1970.
Dr. King was all about non-violence. Planned Parenthood is all about violence. It's what generated the $2 billion abortion giant's massive $134 million in profit in 2020. Planned is the leading killer of black lives, killing an estimated 412 black lives every single day. (Calculation determined by CDC's report that 39.2% of abortions committed on black babies and multiplying that by the 383,460 abortions Planned Parenthood carried out in 2020. The percentage of black abortions at Planned Parenthood most likely far exceeds the percentages reported by the CDC.)
Dr. Martin Luther King had a huge blind spot.
This weekend, I'll be speaking on behalf of The Radiance Foundation at the same hotel (now called the Omni Shoreham Hotel) where thousands of students from across the country will be gathering for justice. The event is the Pro-Life Summit, led by Students for Life of America, Alliance Defending Freedom, Heritage Foundation, And Then There Were None, and Pro-Love Ministries. We make the injustice of abortion crystal clear. We're fighting to undo the lie of the "unwanted child" regardless of the beautiful hue of skin. We're fighting to protect vulnerable women from a predatory industry that profits from fear. We're fighting, with non-violence, to forever stop the violence of abortion.
Even great men and women of God can have huge blind spots. All of us do. To those whose blind spots lead them to advocate for abortion, my prayer is that you come to see that equality begins the moment we begin. 
Ryan Bomberger is the Chief Creative Officer and co-founder of The Radiance Foundation. He is happily married to his best friend, Bethany, who is the Executive Director of Radiance. They are adoptive parents with four awesome kiddos. Ryan is an Emmy Award-winning creative professional, factivist, international public speaker and author of NOT EQUAL: CIVIL RIGHTS GONE WRONG. He loves illuminating that every human life has purpose.