'Avengers: Infinity War' Gets Earlier Release Date To Sync Premiere Worldwide
'Avengers: Infinity War' Gets Earlier Release Date To Sync Premiere Worldwide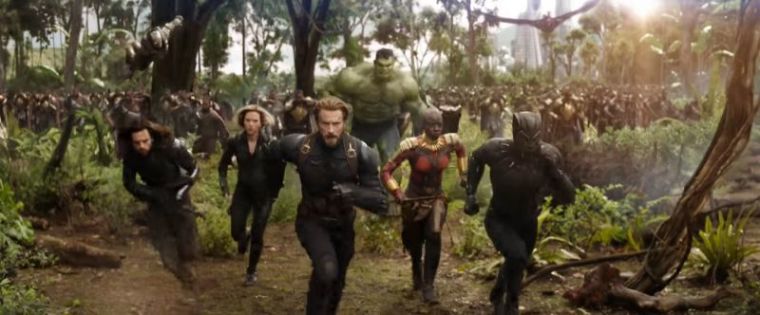 It was recently announced that the United States release date of "Avengers: Infinity War" has been moved to an earlier schedule.
In true Marvel fashion, the adjustment of the movie's premiere was announced through a social media exchange involving Iron Man, who is portrayed by actor Robert Downey Jr.
The movie "Black Panther" is still up in some theaters around the world, but Marvel Studios' official Twitter page recently made sure that fans are also keeping in mind that "Avengers: Infinity War" is set to premiere in the coming months.
Earlier this week, Marvel Studios asked its Twitter followers: "On a scale of one to infinity, how excited are you to see #InfinityWar on May 4th?"
As of this writing, the tweet had more than 2,700 replies, but the most interesting of those was definitely the one that Downey wrote, which said: "Any chance I could see it earlier?"
The studio then asked the actor whether Friday, April 27, was a good date.
Technically, Downey has always had the privilege of being able to watch the "Avengers" movies in theaters earlier than others since he is one of the main cast members of the franchise. This is why the actor made his request clearer by asking whether the new, earlier release date would also apply for his "friends" which he later said was "the entire world."
Obviously, there were more formal talks behind-the-scenes before the April 27 date came up on social media. Nevertheless, it was Marvel's unique way of announcing that "Avengers: Infinity War" would now premiere a week earlier than previously planned. It was originally set to be released in the United States on May 4. 
Meanwhile, The Hollywood Reporter suggested several reasons as to why Marvel and Disney decided to push up the "Avengers: Infinity War" release date. For one, it was mentioned that the massive box office success of "Black Panther" had something to do with it.
Since its release in February, "Black Panther" continues to dominate the box office after recently passing the $770 million mark within two weeks. The exceitment that it obviously created among Marvel fans would likely make them more eager to see the next Marvel installment as soon as possible.
Meanwhile, "Infinity War" directors Anthony and Joe Russo also offered another reason why the studio opted for an earlier premiere, as they said on Facebook: "We are so excited to bring this to you one week earlier so fans around the world can see it at the same time."