Beaver Kills Fisherman: Man Killed Taking Photo With Beaver (VIDEO)
An aggressive beaver has killed a fisherman in Belarus, attacking the man after he attempted to take a photo with it, and in doing so sliced a major artery in the man's leg, causing him to bleed to death.
The victim is said to be a 60 year old fisherman, and is just the latest in a series of beaver attacks in the country.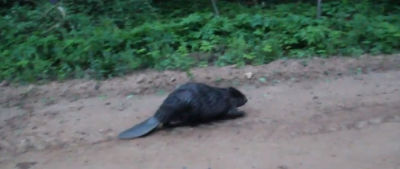 Beavers are known to have razor sharp teeth, and if bitten, humans can suffer extremely serious injuries and even, as in this case, death.
Beavers are reported to be coming closer to residences, shops and schools in some areas of Belarus, and this is causing increasing problems.
Village doctor Leonty Sulim has said, "The character of the wound was totally shocking. We had never run into anything like this before."
Beavers were once hunted fiercely in Europe and driven to the brink of extinction. However, new bans and restrictions have seen their populations increase again, and they are becoming much more visible in various regions now.
In Belarus the beaver population is reported to have tripled in the last 10 years alone, and now stands at about 80,000, according to wildlife experts.
Authorities in Belarus have reported an increased number of beaver attacks, and have advised people to steer well clear if they see any beavers, which can weigh as much as 65 lbs (30kg), and can even grow up to a meter in length.
Some aggressive beavers have had to be fought back by authorities with powerful water spray from fire hoses, according to The Guardian.
In the latest incident, the 60 year old fisherman has not been named publicly at the request of his family. According to reports he was driving in a vehicle with friends towards Shestakovskoye Lake, west of Minsk, when he spotted a beaver on the side of the road.
He stopped the car and tried to grab the beaver to take a photo with it. However, his attempts to grab the beaver sparked it to attack and it bit him numerous times, and one bite is said to have severed a major artery in his leg.
He was rushed to a medical clinic but was pronounced dead on arrival after suffering severe blood loss.
Here is a video of a separate beaver attack:
Beaver Attacks Cameraman