Bieber, Gomez Together Again? Selena Seen at Singer's Home (VIDEO)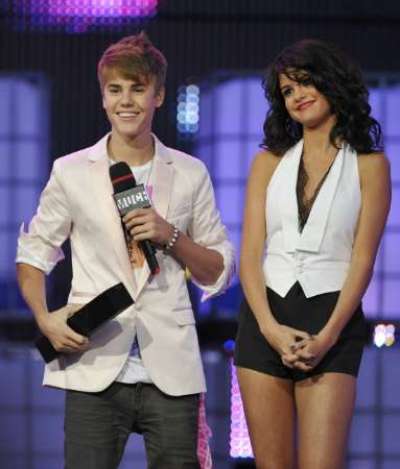 Rumors that Justin Bieber and Selena Gomez are back together again are circulating this weekend after 20 year old Gomez was seen at Bieber's home on Saturday morning.
The two young stars have had a turbulent relationship over recent months with things seeming to be off and back on again a number of times. However, despite Gomez recently reporting that she is "doing great" after splitting up with the Canadian singer again, there still appears to be something going on between the two.
The "Wizards of Waverly Place" actress was seen being escorted from Bieber's home by a man reported to be his bodyguard on Saturday morning in Los Angeles, California, according to E! News.
Bieber and Gomez broke up in November but got back together weeks later, only to break up again following a storming argument on holiday in January. However, the latest news that the pair has been meeting up has gotten fans questioning whether they are back together again.
Gomez recently opened up to E! Online about enjoying her life after reports of her ending a highly publicized relationship with 18-year-old Bieber.
"I've been recording, having a lot of fun with my girlfriends, having a good time," she told E! Online.
While Gomez is readying an album, she did not seem ready to share if Bieber inspired any content on her upcoming project. Instead, she spoke about enjoying her ability to express herself in her latest musical effort.
"I'm having a lot of fun expressing everything that I'm feeling," Gomez said.
Bieber was more forthcoming about his breakup with Gomez in a recent interview with Billboard. "There's so many rumors," Bieber said. "People say I call Selena every day and she won't pick up the phone or I'm chasing her down, and these are all fake stories."
While Bieber told the publication that he was not in a happy place, he opened up about writing the song "Nothing Like Us" for Gomez. "Because at the end of the day, there's nothing like us, you know? That's just it," Bieber told Billboard. "It is what it is. People are going to relate to that."