Bill Gates on Steve Jobs: Microsoft Founder Tears Up Remembering Longtime Rival (VIDEO)
Bill Gates on Steve Jobs: Microsoft Founder Tears Up Remembering Longtime Rival (VIDEO)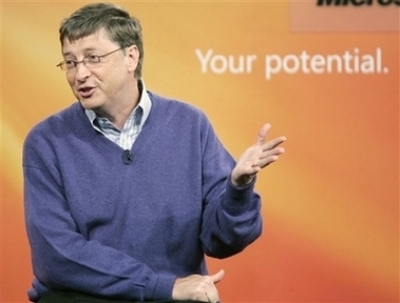 Bill Gates spoke of Steve Jobs during his "60 Minutes" interview fondly, even getting emotional when remembering the Apple founder in the days before he died. The billionaire Microsoft co-founder and driven philanthropist didn't hesitate to share his last visit with his longtime rival.
Bill Gates talked about his complicated relationship with Steve Jobs in an interview with Charlie Rose on "60 Minutes," including Jobs' final months. Although the visionary Apple founder didn't have much time left in his battle with pancreatic cancer, he was still very "forward-looking," talking about "what we learned, families, anything."
"He showed me the boat he was working on and talked about how he's looking forward to being on it, even thought we both knew there was a good chance that wouldn't happen," Gates told Rose. "He was not being melancholy like, 'oh, I've been gypped.' It was very forward-looking."
Gates became emotional, his eyes watering and his expression subtly changing when reminiscing about his friend. Jobs died in 2011.
"He and I, in a sense, grew up together," Gates said. "We were within a year of the same age, and we were kind of naively optimistic and built big companies. And every fantasy we had about creating products and learning new things— we achieved all of it. Most of it as rivals. But we always retained a certain respect and communication, including even when he was sick."
Sickness has been a main focus of Gates since leaving Microsoft five years ago to focus full-time on the Bill and Melinda Gates Foundation, which funds various projects to help eliminate disease. Some of Gates' biggest challenges are eliminating polio, tuberculosis, and malaria worldwide, which he says are realistic possibilities for the next 20 years.
While Gates admitted that he did envy Jobs' sense of design, his mission to use his $67 billion fortune for philanthropy could give the world much more.