Black Friday 2012 Deals: Walmart, Best Buy, Target Slash Prices on Laptops, Smartphones, TV, Xbox 360, Digital Cameras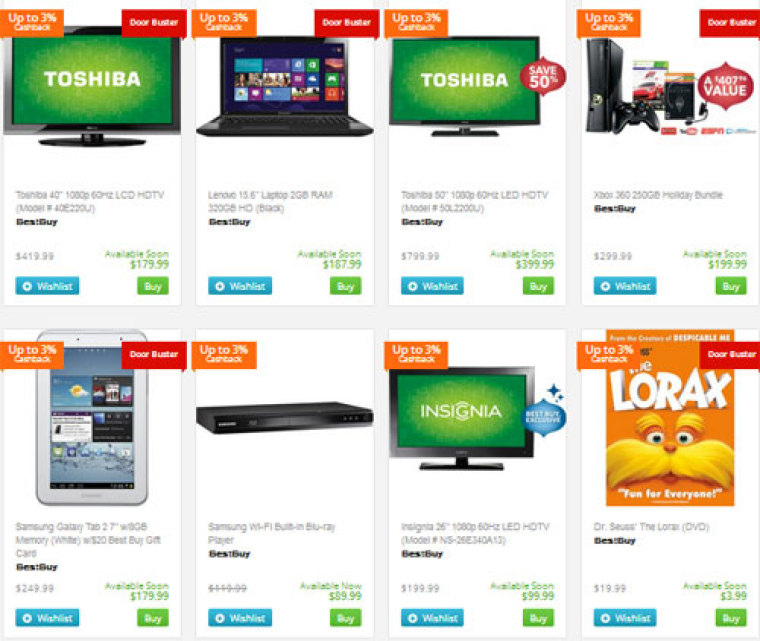 Black Friday 2012 is less than a week away and Walmart, Best Buy, Target and other major retailers are pushing ads about their major price slashes on popular Christmas gifts like laptops, TVs, Xbox360, digital cameras, and smartphones.
Electronic superstore Best Buy announced that doors will open at 12:00 a.m. Friday and tickets will be handed out two hours before the midnight opening. But online deals begin Thanksgiving Day and there is also the bonus of free shipping – no camping out inthe cold and free shipping? Sounds like an awesome way to get the best of both worlds without much effort.
One of the big deals at Best Buy this Black Friday is the Toshiba 40'' 1080p 60HZ LCD HDTV that has been slashed from $419.99 to $179.99. That is a whopping nearly 60 percent saving! And for your little – or adult – gamer, the Xbox 360 250 GB holiday bundle is going down from $299.99 to $199.99. That's $100 savings! And the Wii game "Just Dance 3" is only $7.99, down from $39.99.
Now, if someone on your Christmas list needs a tablet, Best Buy is selling the Samsung Galaxy Tab 2 7'' w/8GB Memory (white) with $20 Best Buy gift card for $179.99, down from $249.99. Need a Dr. Seuss movie? "The Lorax" DVD is selling for a mere $3.99, down from $19.99. Need something a little more mature? How about "Hunger Games" (Blu-ray) only for $8.99, down from $24.99.
Now onto Walmart, which is facing a workers walkout on and around Black Friday that is making headlines this week, but who knows if it will affect Black Friday operations or not. But we do know that it's opening much earlier than Best Buy and Target. Black Friday hours start at 8:00 p.m. Thursday at Walmart! So it seems Walmart's plan is shoppers should guzzle down their Thanksgiving meal and head directly out to Walmart to camp out afterwards.
Some Walmart deals include HP Deskjet 3526 Printer (Thursday, 10 p.m.) for $49.00! A Nikon J1 10MP Digital Camera (Thursday, 10 p.m.) sells for $399. And a JVC Everio HD Digital Camera (Thursday, 10 p.m.) sells for $119.00. For the movie fans, Philips 3D WiFi Blu-Ray Home Theater System (Thursday, 10 p.m.) sells for $128.00.
On to home goods, Better Homes & Gardens 7-Piece Comforter Set (Thursday, 8 p.m.) sells for $34.88, and a Crock Pot 6-Quart Slow Cooker (Thursday, 8 p.m.) sells for $9.44.
And for the young teen male, Justin Bieber Someday Fragrance (Friday, 5 a.m.) sells for $18.77.
The bikers in your life might enjoy these deals. The Mongoose 26'' Mens Ledge 2.1 Bike (Friday 5 a.m.) sells for $99. Meanwhile, Schwinn Varsity Road Bike (Friday 5 a.m.) goes for $199
And yet another Xbox 360 deal. Walmart's Xbox 360 Dance Bundle with Kinect (Online Only) is going for $229.
Plus there is something sortof FREE. Walmart will be giving FREE $100 Gift Card with select smartphone at 5 a.m. Friday.
As for Target, doors will open 9 p.m. on Thursday, Thanksgiving Day. An Aerobed Elevated Queen Air bed is only $49. An Apex 32'' Class 720p LCD HDTV is going for $147. A Bella Espresso and Cappuccino Maker is only $29. A George Foreman 8-Serving Grill is selling at $29. A Nikon L310 Digital Camera is a pretty price of $99.99. And the Playstation 3 25GB Game System is $199.99. Need some speakers for your Apple products? A Sony Portable iPhone/iPod Dock is $39.99.
And the all-popular Xbox 360 Kinect Bundle (yet another deal) is $199.99.