Boy Meets World Rings: Corey and Topanga's Wedding Rings Revealed for Girl Meets World (PHOTO, VIDEO)
Boy Meets World spin off "Girl Meets World" is currently gaining exposure with increasing reports from the set, with the pilot episode currently being filmed. In the latest news, Corey and Topanga's wedding rings have been posted on social media networking site Twitter this week.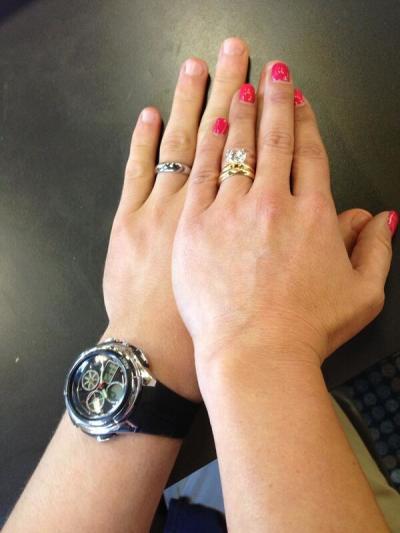 Danielle Fishel, who plays Topanga, posted a photo of the Boy Meets World stars' new wedding rings on Twitter, writing: "Cory and Topanga… together again."
Ben Savage, who played Cory Matthews, and Danielle will be reprising their roles as Corey and Topanga for a new spin off show called "Girl Meets World," which will feature the couple married and happily together. The new show will focus on the couple's daughter and the struggles and challenges she goes through growing up and learning about the world.
Their daughter on the new show will be played by Rowan Blanchard.
Many of the original cast members have rejoined for the spin off show, and there is a certain amount of euphoria around the cast members, who seem to be bursting with excitement at working together again.
Fishel isn't the only person posting up photos onto the Internet excitedly for fans; Ben Savage has also been posting numerous photos to his Instagram account for his followers.
For the new cast of the spin off, joining Rowan Blanchard's Riley character will be Sabrina Carpenter who plays Riley's best friend, Teo Halm who will play Corey and Topanga's other child - a son, and the familiar face of Mr Feeney will be returned to complete the show's cast line up.
The pilot episode of the new series recently started filming, according to reports. Although Disney has not yet fully signed up the show - waiting for the pilot to be completed - it is thought more of a formality given the excitement among fans for the new show. Once Disney does give the formal sign off then the full series will begin being created and the show will likely hit TV screens before the end of the year.
Here is a video report with Rowan Blanchard who will play the new main character for Girl Meets World:
Rowan Blanchard Talks Girl Meets World