Buffalo Bills vs Indianapolis Colts Live Stream Free: Watch Online NFL Sunday Football (1PM ET)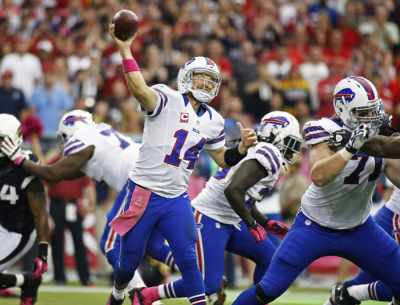 The Buffalo Bills will play the Indianapolis Colts on Sunday in this big AFC encounter with the Colts desperate to bounce back from the embarrassment of being hit for 59 against the New England Patriots. The game is scheduled to start at 1 p.m. ET and can be watched online through free live stream via the link below.
The Colts' season had been looking good, with the players and fans looking forward optimistically towards the playoffs. They had a two game lead over the seventh placed team, before succumbing to one of the best team in the NFL at the moment in the Patriots.
That defeat has meant things are now a lot more tense for Indianapolis, and today's encounter against the Bills will be tough, especially as veteran Fred Jackson could be making a comeback today for Buffalo.
The Colts come into this game with a good 6-4 record, and lie in second place in an AFC South led by this season's powerhouse, the Houston Texans on 10-1. The Colts should easily be able to tie up second place in the division as they are well ahead at this point of Tennessee and miles ahead of the terrible Jacksonville Jaguars, who are 1-9.
Meanwhile Buffalo have struggled this season and come into this clash with a 4-6 record. However, despite their negative record they still manage to sit in second place in a weak AFC East division led by the 8-3 Patriots. The Bills are tied with the Miami Dolphins on 4-6, with the New York Jets occupying the basement with 4-7.
The Bills will be hoping defensive end Mario Williams can continue his comeback following an impressive showing against the Dolphins in Week 11. If he can do well against Anthony Castonza and Andrew Luck today then the game could sway in the direction of the Bills.
The quarterback match up today will see Ryan Fitzpatrick face off against Andrew Luck. Fitzpatrick has completed 202 throws from 323 attempts for 2179 yards and 17 touchdowns. Meanwhile, Luck has completed 235 from 412 attempts for 2965 yards and 12 touchdowns.
This encounter will almost certainly have a big say in how the playoffs shape out for these two teams, and both will be fully focused on claiming a win here today.
The Buffalo Bills against the Indianapolis Colts is scheduled to start at 1 p.m. ET and can be watched online through free live stream by clicking here.