Carolina Panthers vs New York Jets Live Stream Free: Watch NFL 2013 Football Online (CBS TV Schedule, Start Time)
Carolina Panthers vs New York Jets Live Stream Free: Watch NFL 2013 Football Online (CBS TV Schedule, Start Time)
The Carolina Panthers clash with the New York Jets on Sunday afternoon in an intriguing Week 15 NFL match up. The Panthers are just a game behind the New Orleans Saints in the NFC South and will be desperate to win today to maintain the pressure on the division toppers. The game will start at 4.05 p.m. ET and can be watched online through free live stream (details below).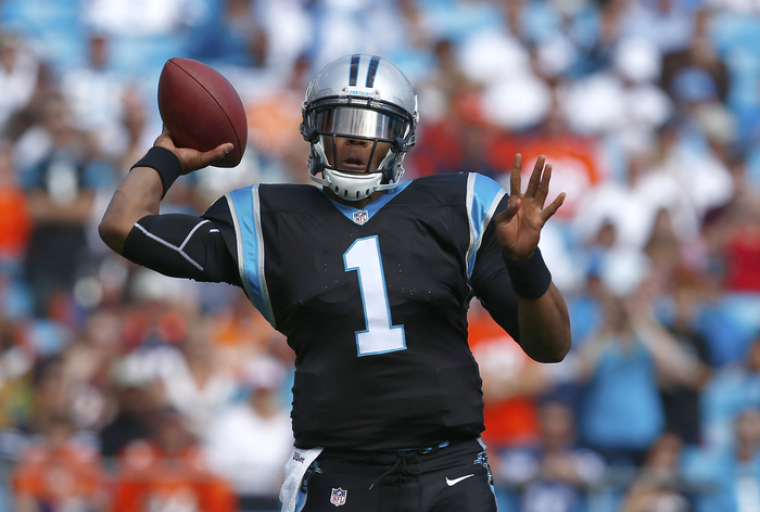 The Panthers come into this game on 9-4, closely trailing the Saints, who are on 10-3. Carolina will be disappointed to have missed out on the chance to go top of the division last week, when they fell heavily to their division rivals, the Saints.
The Panthers had surged to tie with the Saints after a run that saw them win 8 straight games. However, they were unable to make it 9 in a row when they met their division rivals last week and lost badly, 13-31.
That means it's almost certain that the Saints will take the division title this season, but the Panthers still have a chance; they meet the Saints again next week and if they can win that game and win out the season, they might still be able to snatch the division crown before the regular season comes to an end.
Their defense will have to do better than they managed last week, and they were left in tatters as the Saints offense exploded around them regularly. They were unable to get a grip on Drew Brees, who passed for 313 yards and four touchdowns to knock the Panthers away from the top of the NFC South.
Cam Newton will be a big player for the Panthers as they look to bounce back from last week's set back. He is 248 of 400 for 2,776 yards and 20 touchdowns. DeAngelo Williams has done the majority of the work on the ground, and has gone 662 yards on 164 carries for two touchdowns.
The New York Jets meanwhile are 6-7 and snapped their losing streak last week by besting the Oakland Raiders 37-27. Their offense was finally able to get things together and they piled on the points as they successfully avoided falling to four straight defeats. In the two weeks prior they had only managed to score 6 points in total, so setting a season high for points will have been a breath of fresh air for the Jets last week.
The New York Jets against the Carolina Panthers will start at 4.05 p.m. ET and can be watched on TV on the CBS network or online through free live stream by clicking here.
New York Jets vs Carolina Panthers WEEK 15 NFL PREVIEW 12/15/13