Chicago Bulls vs Houston Rockets Live Stream Free: Watch Online NBA Basketball (7PM CT)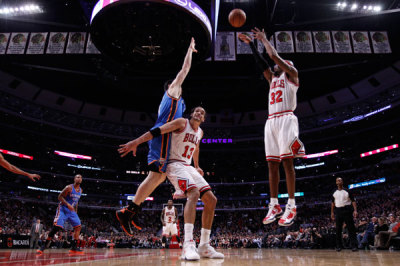 The Chicago Bulls will face off against the Houston Rockets in Game 11 with the Bulls looking to tighten up things defensively following some rather slack work in defense over recent games. The game is scheduled to tip off at 7 p.m. CT and can be watched online through free live stream via the link below.
The Bulls come into this game desperately seeking to stop the rot. If they lose tonight it will make a third straight loss for Chicago, which would be the first time they had gone on such a bad run in the regular season for two and a half years.
Two straight defeats mean the Bulls have slipped back to .500 with a record of 5-5, but they will feel they have the opportunity to bring that bad run to an end on the road tonight against the Houston Rockets.
The Rockets come into this game struggling with a record of 4-6, and the Bulls will be hoping to hand them a fourth straight loss by beating them tonight.
Chicago have built their reputation on their strong defense, and over the past two seasons under coach Tom Thibodeau the Bulls have been the league's top defensive unit, restricting teams to just 89.9 points per game on average and making opposition suffering with just 42.6 percent shooting on average.
They maintained that reputation at the start of this season, winning four of their first six games, at the same time as restricting teams to just 88.7 points per game, holding opponents to a 42.1 field goal percentage.
However, as their form has slumped they have forgotten how to guard the basket, and in losing three of their last four games they have yielded 102.5 points per game on average.
Thibodeau has said ahead of tonight's game, "The defense right now, the intensity, we've got to get that part right."
Chicago will be hoping to restrict the Rockets to under 100 points today, and if they fail it will be the fifth straight game they have let through 100 points or more since March 2010.
"We have to learn to put stops together," forward Luol Deng told the Bulls' website. "I don't like comparing teams, but that's what we did well last year. The second unit came in and got stops in a row. Everyone talks about offense, but it's the stops we got. That's how we won games. And that's what we have to get back to."
Chicago Bulls vs Houston Rockets tips off at 7 p.m. CT and can be watched online through free live stream by clicking here.