Chris Brown Writing Music With James DeBarge In Jail?
Chris Brown could be spending his time in jail making music with fellow R&B singer James DeBarge.
Brown, the 25-year-old singer-songwriter has been sentenced to serve one year in jail for violating his probation. DeBarge, the 50-year-old R&B singer, is reportedly in the same segregated unit for high profile inmates in the LA county jail cell that Brown is being held in.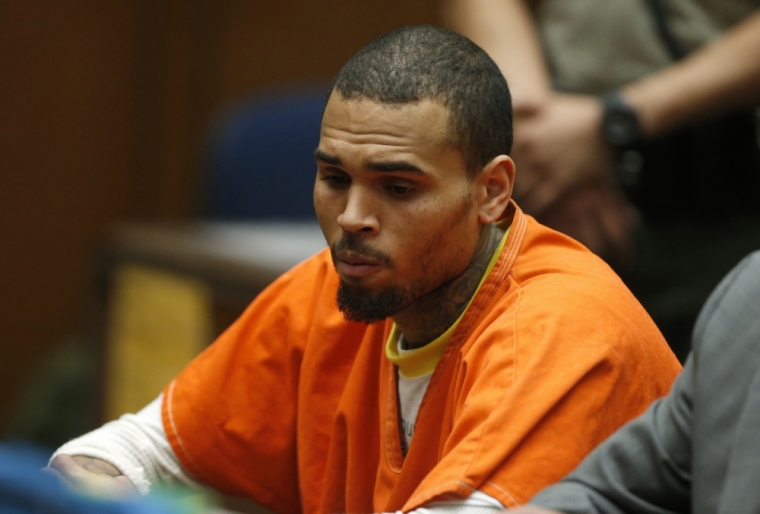 Now, TMZ is reporting that the two singers have written three songs together even though they cannot see one another.
"We're told they've been collaborating on music and have already written three songs, performing them during the long days ... with other cellmates harmonizing," TMZ is reporting.
"This is kind of amazing ... they can't see each other. It's all about the sounds."
While DeBarge is currently in jail for drug convictions, Brown's probation violation stems from the singer being accused of breaking the nose of a fan, Parker Isaac Adams, who allegedly attempted to sneak into a photograph that Brown was taking with two women last year, according to E! News reports.
While Brown admitted to violating his probation which results in the recent ruling, he must still undergo a trial for his Washington, D.C. assault case. Brown's lawyer, Mark Geragos, insisted his client has grown from his legal issues.
"We're gratified that he was not sentenced to state prison, gratified that he's still on probation," Geragos said, according to CNN. "I think that Chris has learned quite a bit through this experience and I'm anxious to see how he does, as I think everybody else is."
Before his recent sentencing, Geragos told CNN that Brown is doing well.
"He's doing remarkably well under the circumstances," Geragos told CNN. "It's a challenging situation to be in."
After already serving time in jail and a rehabilitation center for a combined seven months, Brown was given credit for serving 234 days already, after being sentenced to one year according to CNN reports. With only 131 days left to serve, TMZ reported that Brown could have that time cut to less than a week.
A week after his sentencing, Brown remains in jail. His release date is unclear at this time.