Chris Brown's Chin Cut by Drake? 3 Entertainers Involved in Nightclub Brawl (VIDEO)
Chris Brown's chin and Drake's entourage collided when the two music stars were involved in a melee at Club W.i.P. in Manhattan's Soho neighborhood in New York. Brown tweeted a picture of a large gash on his face from the fight, but later removed the post and the angry words that were with it.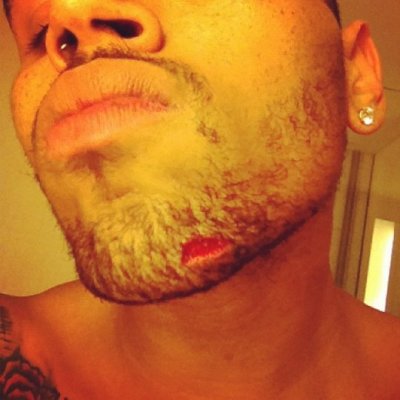 Chris Brown's chin was cut when Drake and rapper Meek Mill's entourage saw bottles thrown, then shoved and punched member's of Brown's entourage. Drake's representatives are adamant that the rapper did not participate or cause the fight, however- he was on his way out of the club when the brawl started, in fact.
"Drake did not participate in any wrongdoing of any kind last night at W.i.P. He was on his way out of the club when the altercation began," representatives told TMZ. "He did not engage in any activity which resulted in injury to person or damage to property."
Witnesses did confirm that two unknown men went to Brown's table, where he was accompanied by his girlfriend, model Karreuche Tran. There, the men asked the R&B artist if he had a problem with Drake, and he said that he didn't, according to The Washington Post.
Later, as Brown was leaving the club, five men allegedly began screaming and taking their shirts off, preparing to fight Brown and his entourage. During the fray a bottle was a thrown, but it remains unclear which entourage- if any- threw it.
Police were called, and all three entertainers scattered; Drake, Chris Brown, and Meek Mill were all absent when authorities showed up to conduct an investigation. No arrests were made, officers still seek surveillance and testimonies from the rappers.
"Chris and his party are cooperating with NY authorities who are pursuing this incident further," Brown's representatives stated.
While Rihanna's name was never mentioned in any official reports, various rumors have circulated that emotions ran high because of her. Chris Brown's controversial romance with the songstress ended after he abused her in 2009, and she dated Drake shortly afterwards.
Below is a video taken before the nightclub incident where Drake can be seen accompanied by huge bodyguards. It is currently unknown if these were the two men who initially approached Brown.
Drake and Chris Brown Altercation in Night Club Aftermath