'Days of Our Lives' Spoilers May 4 to 8: Chad Pushes Abigail Away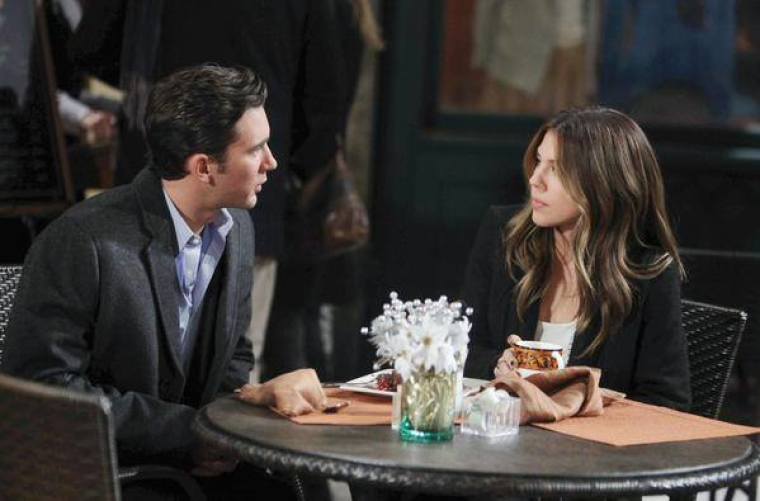 Last Friday on "Days of Our Lives," Melanie and Theresa arrive at the castle in Italy escorted by a police officer. They are told that there is no evidence of a crime. Brady signs some forms to release the baby who's being examined, and later another police officer brings Christopher in.
Outside the DiMera sitting room, Chad thinks about Abigail. He walks inside and sees Stefano looking at Kristen's picture. Chad tells him that his sister is dead. Chad shakes his head—he can't believe it. He starts to cry and he tells his father that they only have each other now. Later, they hear Abigail at the door and Stefano asks Chad to keep Kristen's death a secret for now.
Back in Italy, Theresa cuddles her baby while Brady asks Victor to keep things a secret. Theresa thanks Melanie for everything. The Italian police tell them to not say a word about anything and in exchange, they'll overlook Melanie's illegal entry into the country.
On the flight home, Theresa and Brady sit together and when the baby cries, Brady soothes his son. Theresa says that maybe they should change his name.
Here are the "Days of Our Lives" spoilers for May 4 to 8:
May 4 (Monday): Serena urges Eric to move to Hawaii; Nicole reacts surprisingly to Daniel's decision to work thing out with her; Kate tries to talk to Will out of writing his article about Clyde; Chad pushes Abigail away.
May 5 (Tuesday): Nicole sacrifices Daniel's feelings in the process of trying to figure out Serena's secret; Will begins investigating Clyde; Hope talks to Rafe about Aiden.
May 6 (Wednesday): Paul calls Sonny to see how he would feel about his return to Salem; Clyde threatens Will.
May 7 (Thursday): Eve and Cole continue scheming as Paige and JJ plan their future; Daniel urges Jenn to have JJ confess to Paige.
May 8 (Friday): Melanie tries to figure out where she stands with Brady; John learns about Marlena's ordeal.
"Days of Our Lives" airs on Mondays to Fridays at 1 p.m. on NBC.