Dennis Quaid, Wife Reunite: Divorce Still Likely to Go Through Despite Reconciliation (VIDEO)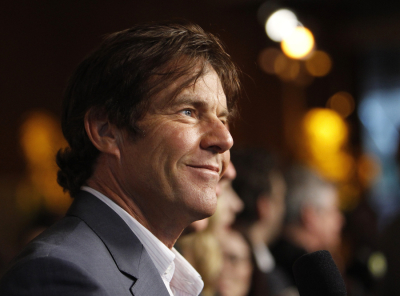 Dennis Quaid and his wife have reunited, according to new reports out this week. The couple had split for several months recently, but have now apparently reconciled their differences and are back together.
Quaid and wife, Kimberly, had an emotional split last year in October after 8 years of marriage. The split was so bad that both even went as far as signing divorce papers and filing them. That means that the two are now unable to halt their divorce from being completed, but nevertheless their change of heart now means they are back together.
The split had also seen the couple start a battle over primary custody of their twins, and Kimberly was even seeing spousal support from her 58 year old actor husband.
At the time she had said that she felt their marriage had "become insupportable because of discord or conflict of personalities."
Quaid himself filed for divorce at the end of November 2012, just a month after his wife had filed her papers.
He had waited because California law requires that residents have lived in the state for at least six months before filing a divorce petition. The couple only moved there in the summer, and so Quaid was forced to wait until he could make his filing. At that time he requested physical and legal custody of the twins and offered to pay spousal support.
He even purchased a $3.1 million home in the Pacific Palisades area of Los Angeles for Kimberly and their twins, who are five years old, to live in following the split.
Their divorce paperwork is currently in the possession of a judge, according to reports, and they have no official way of removing their petitions from the court system at this stage, meaning their divorce is likely to go through in the future.
The couple has not yet stated whether they will look to remarry now they are back together should the divorce eventually go through.
Here is a video report on Dennis Quaid and his wife's split: