Denver Broncos' Adam Gotsis Arrested for Allegedly Raping Woman in Georgia
Denver Broncos' Adam Gotsis Arrested for Allegedly Raping Woman in Georgia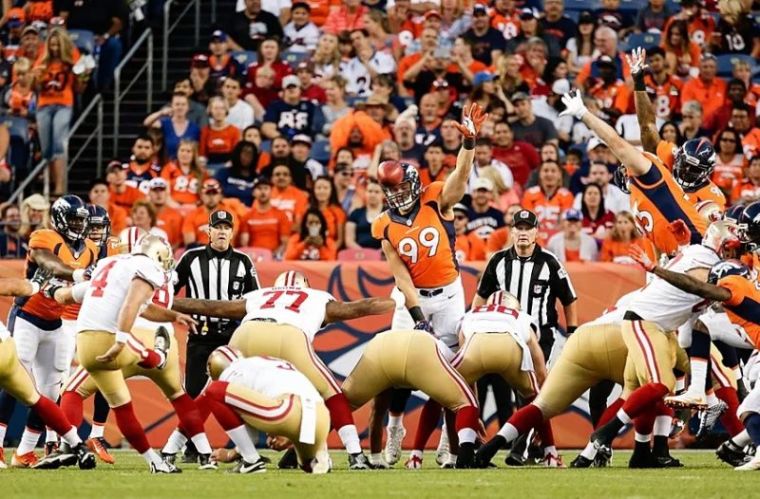 Adam Gotsis, defensive end for the Denver Broncos, was recently arrested for an alleged rape incident that happened while he was in college.
Gotsis attended Georgia Tech before being drafted to the National Football League in 2016. The rape incident reportedly happened in the same state.
USA TODAY Sports obtained a copy of the police incident report that indicated Gotsis had surrendered to law enforcement officers on March 7. However, he is now on temporary release after posting a $50,000 bail, according to the records of Fulton County jail.
The NFL athlete's lawyer, Sara Becker, claimed Gotsis was informed about the charges in February while the rape incident happened in 2013. The legal counsel maintained that the the "allegations are false" and that the NFL player was innocent.
However, Becker also said that they were "disappointed to learn of the turn the investigation was taking" but added that they "immediately reached out to law enforcement and have proactively cooperated with all aspects of the investigation while maintaining communication with the team."
The Denver Broncos organization have issued a statement confirming that they were aware of Gotsis' arrest. They said they had informed the National Football League officials of the matter.
"The Broncos take an accusation of this nature very seriously and will continue to closely monitor the legal proceedings," the Broncos added.
Meanwhile, the administration of Georgia Tech told the Denver Post that they were informed of Gotsis' case and added that the rape case was reported to the police last Feb. 1.
The details on Gotsis' trial is still unavailable, and it is also yet to be known if the NFL will impose sanctions on the 25-year-old player. The Fulton County District Attorney's office has tasked a special unit to look into the matter and determine if formal charges can be filed against him.
The Broncos obtained Gotsis in 2016 at the second round of the draft, landing the 63rd overall pick of that year. An injury kept him from joining games in his rookie year, but he was able to return in the 2017 season and played in the team's 16 games.