Electoral Map 2012 Latest: Obama Poised to Win Record Latino Votes, Poll Indicates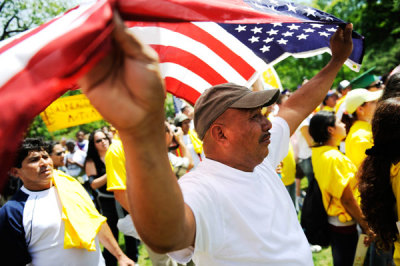 As America goes to vote a new poll has indicated that President Barack Obama may score big with Latinos voters, who make up about 10 percent of the electorate in this election.
According to a poll released this week by Latino Decision and impreMedia it is indicated that Obama is poised to win a record high share of the Latino vote.
Among likely Latino voters, 73 percent of respondents to the survey said they were certain to vote for him compared to just 24 percent who were sure they would vote for Romney. A further 3 percent were still undecided as to who they would vote for.
Some key issues that apparently led Latinos to run from the GOP toward the Democrats may be immigration and the economy, Latino Decision's Gary Segura and Matt Barreto have suggested.
During the GOP primary debates, former governor Romney may have failed to impress Latino voters by delivering a pretty tough position on immigration, when he even used the term "self-deportation," which worried many Latino voters as to what a term under the Republican candidate would be like for them.
If Obama wins 73 percent or higher of the Latino vote, it would mark the highest total ever for a Democratic presidential candidate.
Preliminary exit poll results are expected to be released from 5 p.m. ET and official exit polls results are set to be held back until each particular state's polls close.