'Five Nights at Freddy's 4' Announced, First Image Revealed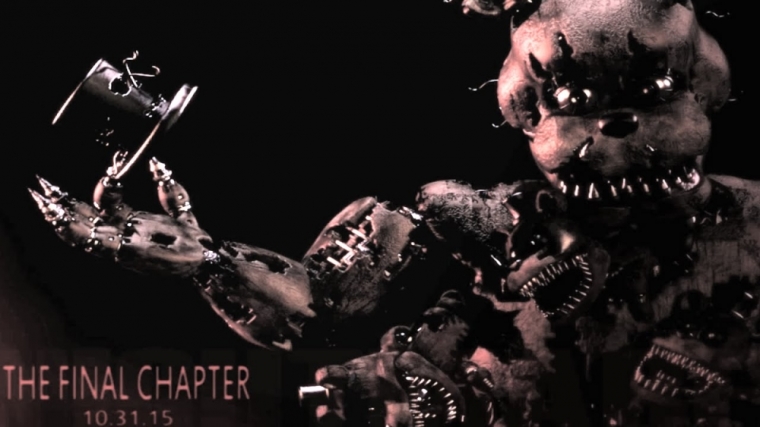 Scott Cawthon, creator of the "Five Nights at Freddy's" has just released a brand new teaser image on his website to announce the fourth installment in the series, "Five Nights at Freddy's 4."
The photo features the animatronic robot Freddy Fazbear, who looks even scarier than usual. His body appears to be sprouting smaller Freddy heads, complete with their own top hats and razor sharp teeth.
The image proclaims that "Five Nights at Freddy's 4" will be "The Final Chapter" in the series. Not much is known about the game's plot, but according to Cinemablend, Fazbear's ragged appearance in the teaser image suggests that the game takes place after the third installment.
The "Five Nights at Freddy's" series takes place in Chuck E. Cheese-inspired pizza parlors, in which seemingly cute and cuddly animatronics come to life at night and embark on a killing spree. Players, who remain unarmed throughout the games, must protect themselves by using the restaurant's security systems to monitor the robotic animals' movements with cameras and turning on lights and mechanical doors to stay alive.
Gamerant has another theory with regards to the upcoming game's plot. According to "Five Nights at Freddy's" lore, one of the animatronics attacked a customer and severed his frontal lobe way back in 1987. This attack, dubbed The Bite of '87, sent the Freddy Fazbear's Pizza franchise on the road to financial ruin. The Bite has been referenced in the first three games in the series, although details have not been revealed.
The website reports that in the HTML code on Cawthon's personal homepage, all of the metatags have been peppered with the numbers 8 and 7. The site speculates that Cawthon may be giving fans a hint, and if the game centers on The Bite of '87, then this would make the game a prequel to the first title.
"Five Nights at Freddy's 4" comes out for PC on Oct. 31, 2015.