Fourth of July Accident: Father Runs Over 8-Year-Old Son With Float in Tragic Death (VIDEO)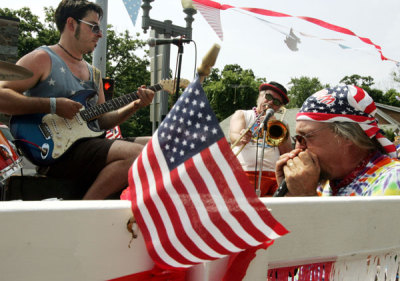 A Fourth of July accident has seen a father accidentally run over his 8 year old boy with a float, killing the young boy in a tragic accident.
The incident took place during the Fourth of July parade in Edmond, Oklahoma as the boy was riding on a martial arts studio's float at LibertyFest. The float reportedly consisted of a pickup and a flatbed trailer.
However, towards the end of the parade route it appears as though some part of the float knocked the boy down off the float, according to Edmond police officer James Hamm.
The driver of the float apparently was unable to see what had happened and continued to drive forward, crushing the boy beneath the vehicle.
Authorities have confirmed that the father was not driving recklessly and had not violated any traffic rules.
Many along the parade route knew the child, according to reports, and a number of children witnessed the horrific incident.
After realizing the boy had been run over by the float the boy was rushed to hospital, but was pronounced dead by doctors at the medical center.
Police do not plan to charge the father with anything following the crime, although they have decided to give the family space to mourn and have not planned to question the father until Friday.
Hamm has said, "I feel sorry for the family that came out here to celebrate the 4th of July. Obviously, their world is turned upside down now."
Here is a video news report into the tragic accident:
Fourth of July accident: 8-year-old run over by dad in 4th of July parade