'Friday the 13th: The Game' News: Gun Media Reveals First Preview of Upcoming Single Player Challenges
'Friday the 13th: The Game' News: Gun Media Reveals First Preview of Upcoming Single Player Challenges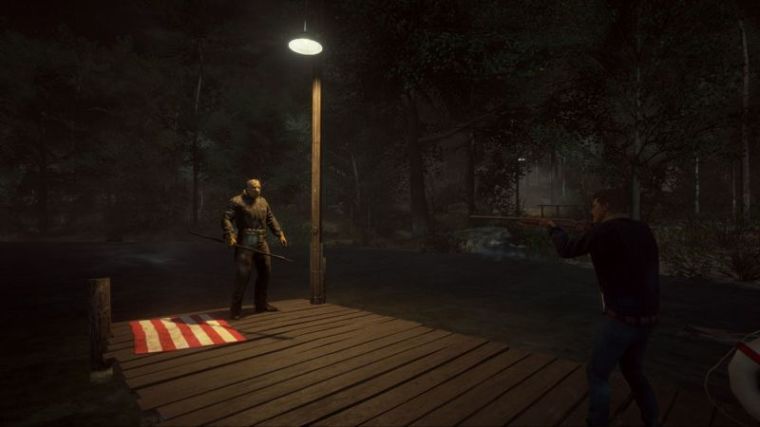 "Friday the 13th: The Game" publisher Gun Media recently provided the first look at the much-awaited single-player challenges.
In a walkthrough video narrated by "Friday the 13th: The Game" community lead Daniel Nixon, developers previewed the "work in progress" gameplay of one of the single-player challenges set to arrive soon.
In the video, players portray the vicious main antagonist Jason Vorhees, who finds two boys stuck in the forest after their car broke down. The narrative suggests the victims were on their way to a party but will not make it, thanks to Jason.
In the background (or more accurately, in Jason's mind), players can hear his mother's voice convincing the masked antagonist that the two boys with a broken-down car deserve to die. He then waits for the best time to attack in the woods while the unsuspecting victims are preoccupied in trying to fix their vehicle.
Jason finds an opportunity to strike when one of the boys walks away from the car to take a leak. He then takes a tree branch which he uses to stab the first victim in the head. As for his second target, Jason waits for him to go under the car and makes a move that eventually leads to a gory scene.
"This small tutorial challenge is just a taste of what's to come. With numerous objectives per challenge, bigger levels, and multiple targets, we think that Jason will have his hands full," Nixon said at the end of the video.
One of the complaints that fans and players had when the game was first released was the lack of an offline, single-player mode. Gun Media immediately responded to the feedback and promised the addition of the said game modes.
It is also important to note that these major additions will be accessible to all players who have the base game without them needing to spend extra money.
Gun Media has yet to reveal the specific release date of the single-player challenges.