Ghoncheh Ghavami's Volleyball Protest Gets Her a Year in Iranian Prison
Ghoncheh Ghavami's Volleyball Protest Gets Her a Year in Iranian Prison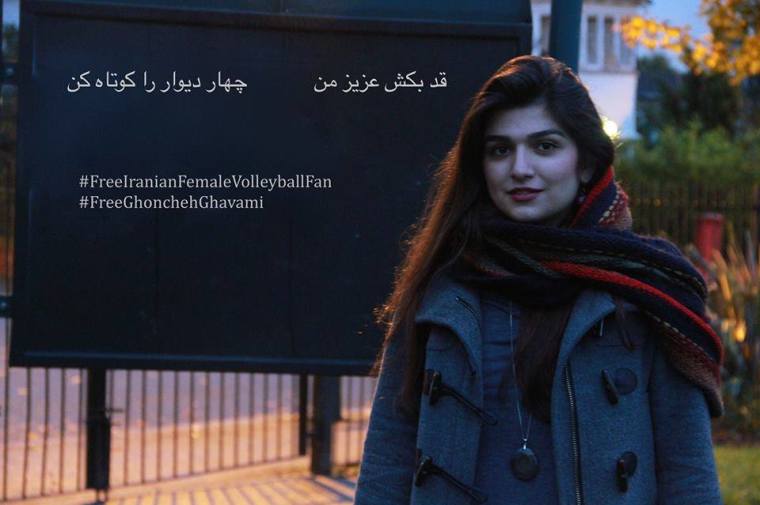 Ghoncheh Ghavani's volleyball protest in Iran got her arrested and sentenced a year in prison, according to reports. The 25-year-old Irianian-British woman went to a men's volleyball game at Tehran's Freedom Stadium in June to highlight the injustice of women not being allowed to attend the all-male matches.
Ghonchech Ghavani went to the Italty vs. Iran World League match alongside other women to protest the event, according to Amnesty International. Initially she was detained for a few hours and then released, but then she was arrested a few days later and has been held mostly in solitary confinement for 126 days now.
"We're disappointed and kind of shocked. We really hoped she'd be released," her brother Iman Ghavami told the Associated Press. Her trial ended in October.
Ghavami's lawyer, Mahmoud Alizadeh Tabatabaei, said that his client had been found guilty of "propagating against the ruling system." However, he has not received the written verdict, so he cannot review the charges.
"I was told at the court today that my client's case has been referred back to the prosecutor because Ghavami is facing new charges. So, the verdict was not given to me," he said.
Amnesty International and the British government have called attention to Ghavami's arrest and detainment, and both have criticized the case and verdict. However, Iran's National police chief General Esmail Ahmadi Moghaddam said that the police were simply "applying the law" when they arrested Ghavami.
It's "not yet in the public interest" for men and women to attend the same sporting events together, he told Agence France-Presse.
Gholam Hossein Mohseni Ejehi, a judiciary spokesman for Iran, has also spoken out, saying her arrest had "nothing to do with sports." Other female photographers at the event were also asked to leave, but were not arrested.
Ghavami went on hunger strike earlier this month because of her detainment.