HTC Grip Fitness Wearable News: Delayed Again Until 2016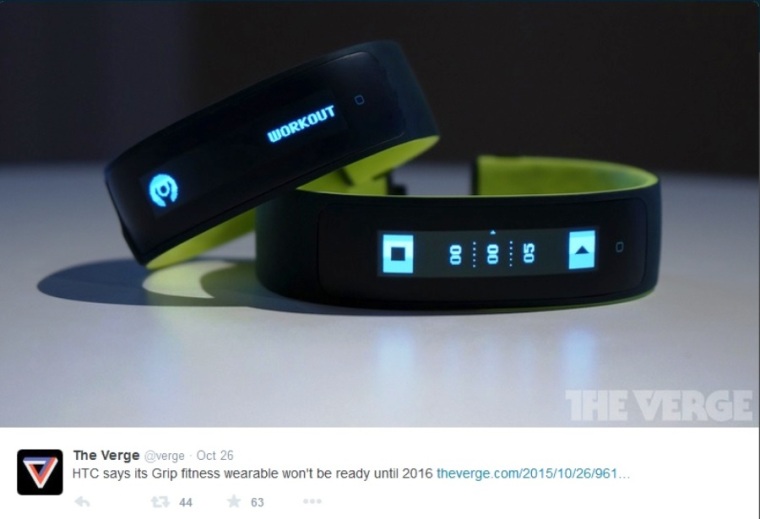 HTC has announced it is delaying its Grip fitness wearable yet again, with the device set back for a launch scheduled in 2016.
After previously committing to release its Grip fitness wearable device this year together with other new fitness products, Taiwanese tech manufacturer HTC has released information it will be delaying the device for a second time, with another launch scheduled sometime in 2016.
The $199 band, which HTC developed together with sportwear company, Under Armour, is said to feature a curved 1.8-inch PMOLED touchscreen display with a 32 x 160p resolution.
Carrying a GPS radio and a pedometer, the HTC Grip has Bluetooth Low Energy to help users connect the band to their handheld devices, and is compatible with Android 4.3 and iOS 7 smartphones and tablets.
The wearable comes in three sizes, is IP57 water and dust resistant, and features a light sensor, a g-sensor, a gyro, and a 100mAh battery.
It was originally set to be available on retailer shelves this year, but was delayed with an announcement in July following extensive testing and user feedback, with HTC deciding to align its Grip fitness wearable with several other health and fitness products it was planning to launch later this year.
Its "Connected Fitness" platform was delayed yet again, when both HTC and its partner, Under Armour, decided to move its "fully integrated digital ecosystem of products," which includes the Grip fitness wearable, to 2016 instead.
The Grip, together with the Vive virtual reality headset, is HTC's attempt to diversify its range of products apart from its smartphone line after the company experienced a drop in sales and profits of its handsets in the past several years.
However, there isn't any guarantee that its new product forays into a fitness wristband and a VR headset will be a guarantee of commercial success, as HTC will be entering into the fitness band industry already crowded with competitors, and a virtual reality industry that has yet to resonate with the market.