Ikea Monkey Will Not Return to Owner; Belongs in Sanctuary, Says Judge (VIDEO)
Ikea Monkey Will Not Return to Owner; Belongs in Sanctuary, Says Judge (VIDEO)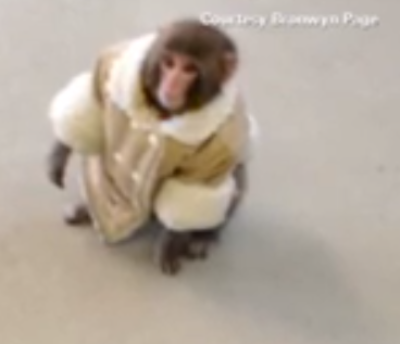 A 7-month-old monkey who was discovered in an Ikea parking lot last year will not be returning to his owner, a judge ruled Friday.
Ontario Judge Mary Vallee ruled that the rightful home of the monkey discovered by Ikea shoppers last December was in an animal sanctuary. The monkey was found last year wearing a coat and diaper and running frantically around an Ikea parking lot.
Bystanders, who claimed they did not realize the animal was a monkey at first, immediately responded by trying to draw the monkey into safety, according to reports.
"All the people were trying to, like, call it towards them, but it was very scared," Bronwyn Page told the Reuters news agency last year. "It was darting all over the place. They were trying to get it away from cars, and then it became clear to us that none of the people there were actually the owners."
After some efforts, locals were able to guide the monkey inside the Ikea store where employees were promptly alerted about their unusual guest.
"Our staff immediately went up there [top deck of the parking lot] and were able to have the monkey held safely until Animal Services came," store manager Alvaro Carmona told ABCNews.com. "It was pretty quick that it happened." According to Toronto police, the monkey broke free out of a cart that was in the back of car located in the store parking lot.
The owner of the monkey was later identified as Yasmin Nakhuda, who had illegally obtained the animal off of the Internet. She was forced to turn the animal over to the Story Book Farm Primate Sanctuary in Sunderland, Ontario. That is where the animal will remain, Judge Vallee ruled Friday.
The judge ruled that the monkey had been illegally obtained and that Nakhuda had originally lied about where she got the animal.