Jill Duggar's Wedding Registry Revealed, Shows Down-to-Earth Requests of Bride-to-Be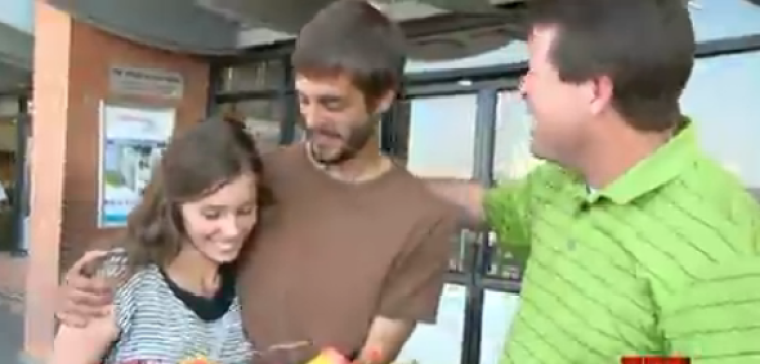 Jill Duggar is set to marry Derick Dillard next month, and the two are preparing for their wedding in the way many engaged couples are: registering for gifts. That registry has been released to the public and is in line with how down-to-earth the couple truly is.
According to Radar Online, the couple has registered for gifts ranging in price from $1.98 (a pot-luck container) to $149.97. Other items include a Bissell vacuum ($47.84), suitcase ($19.00), ironing board ($60) and pillows ($8 per pillow). The couple is registered at a Wal-Mart in Arkansas, but anyone can search for the registry and purchase a gift for the two.
Dillard and Duggar are set to wed on June 21, which doesn't leave much time for wedding planning. However, Duggar and her larger-than-life family are sure to be pitching out to make the ceremony extra special with plenty of homemade touches. The family all participated in eldest son Josh's wedding to wife Anna and shared in the joy and ceremony of their wedding.
Now it's Jill's turn in the spotlight, and she and Dillard could not be happier. After chatting online for 3 months, they were finally able to meet in person after Jim Bob, Jill's father, agreed to fly to Nepal with her. After spending more time together, Dillard took the step and asked Jim Bob if he could marry Jill, and the dad of 19 was more than happy to grant his request.
It's still unknown whether the ceremony will be filmed by TLC for a "19 Kids & Counting" special, the same way that Josh and Anna's wedding was. Jill and Dillard have had somewhat of a more private relationship, sharing key moments with the public but keeping plenty of information just for themselves. The wedding will be the first time they share a kiss, which both are excited about, and then Jill will leave the Duggar family nest to live with her husband.