'Jurassic World Evolution' Release Date, Gameplay: Will It Arrive In Time for 'Jurassic World: Fallen Kingdom' Premiere?
"Jurassic World Evolution" has fans of the franchise quite excited. The video game from Frontier Development will offer players the chance to operate and manage their own dinosaur theme park.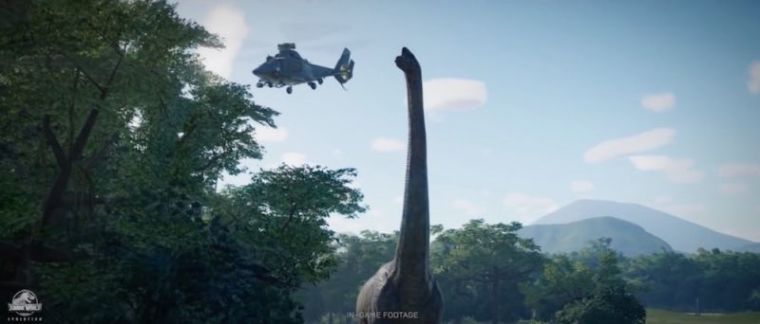 The gaming company announced "Jurassic World Evolution" last summer during GamesCon 2017. It will be based on the 2015 movie, "Jurassic World," starring Chris Pratt and Bryce Howard Dallas.
Frontiers Development hasn't confirmed an actual release date for the game as of press time. It's speculated to hit stores by the second half of the year or in time for the release of the follow-up movie "Jurassic World: Fallen Kingdom."
"As long-time fans of the entire Jurassic series we're thrilled to be putting players in charge of their own Jurassic World," Chief Creative Officer Jonny Watts said in announcing the game. "We're excited to bring over fifteen years of management, simulation, and creature development expertise to a destination and franchise that remains an inspiration to us."
Watts described the game as an extension of what fans have come to love about the film franchise. As a strategic simulation game, however, "Jurassic World Evolution" has been described as a cross between the movie "Jurassic World" and the video game "Rollercoaster Tycoon."
Players will take control of an island from which they would build and expand the theme park, much like 2003's "Jurassic Park: Operation Genesis." Only, in "Jurassic World: Evolution," gamers will be able to also dig sites and study new species to create new dinosaurs as park attractions.
Frontiers Development has not yet given fans a peak of the gameplay to "Jurassic World" Evolution." Based on a discussion with the project developers, however, it looks like gamers can play in at least six different levels or worlds: Isla Matanceros, Isla Muerta, Isla Pena, Isla Sorn, Isla Tacaño, Isla Nublar.
"Jurassic World Evolution" will be playable on the PS4, Xbox One and the PC. It comes with a single-player mode only.