Justin Bieber and Amber Rose Take Selfie Together at Hollywood Party (PHOTO)
Justin Bieber and Amber Rose Take Selfie Together at Hollywood Party (PHOTO)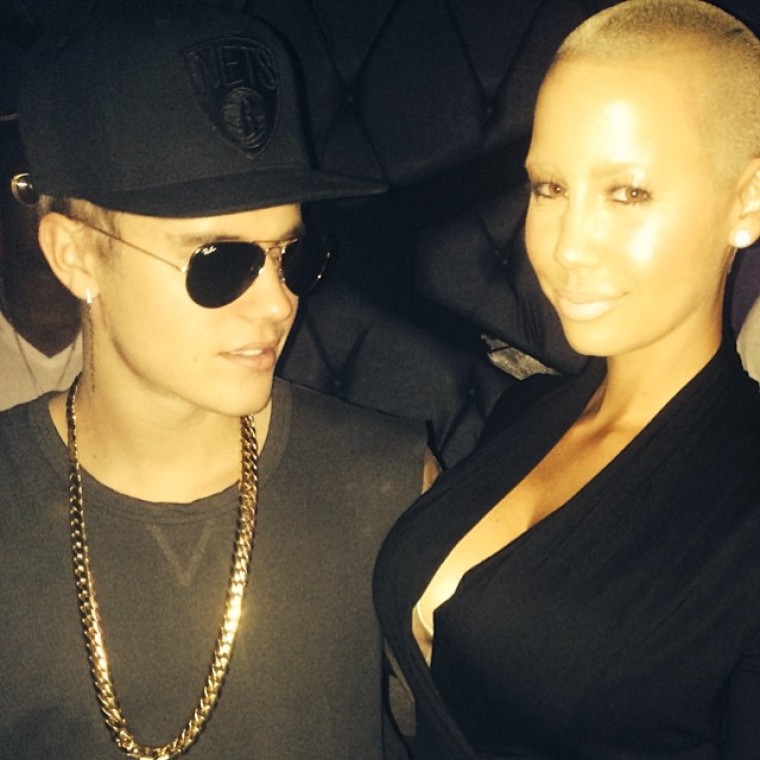 Justin Bieber was recently photographed hanging out with Amber Rose at a Hollywood after-party.
The "Confident" singer, 20, and the socialite, 30, attended the ASCAP Rhythm & Soul Music Awards after-party in West Hollywood on Thursday and they both shared a selfie taken together on Instagram. In the photo Bieber is seen wearing a cut off shirt paired with dark shades and a black hat while Rose sports a fitted black dress.
"Good night with friends," Bieber captioned alongside the photo.
"The Biebs @justinbieber wanted a pic with Muva and I him. He's a sweetie pie," Rose wrote in her own caption.
The unlikely pair reportedly spoke for 15 minutes before continuing with the night separately. One report claims they were seen exchanging phone numbers, however, they are said to be just friends.
"Justin walked over to Amber's private table and they began chatting," an onlooker told RadarOnline.com.
"They talked for more than 15 minutes- and even exchanged numbers. She was smiling and laughing," the source said.
Rose is married to rapper Wiz Khalifa while Bieber recently rekindled his on-and-off romance with Selena Gomez, 21.
Last week Bieber and the former Disney star were photographed on a series of dates including a trip to the Los Angeles zoo. They spent several hours having a private tour and seeing elephants, gorillas and orangutans among other animals.
"Justin is in a really positive place right now and he says it's all because of Selena. He says Selena inspires him to be a better person," a source told HollywoodLife.com.
"She is continually teaching him about unconditional love. She brings out the best in Justin and he knows it. His family knows it," the insider explained.
In April, Bieber and Gomez split after a reported fight at Coachella, but they are now working through their differences. The pair have dated on and off since 2011.
"They pray together and I think that's been really helpful for him too. She's a good influence on him and a constant reminder of who he really is minus all the fame and fortune," the source said.