Kevin Jonas Baby News: Kevin and Danielle Jonas Reveal Baby Will Be a Girl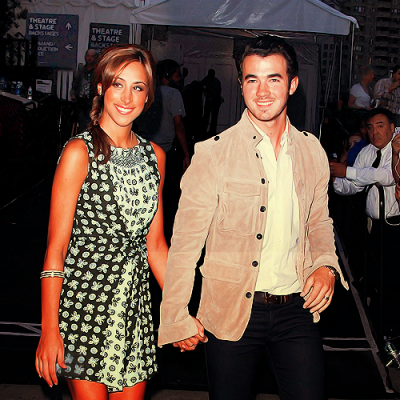 Kevin and Danielle Jonas have announced that their firstborn will be a girl.
The Jonas' used their baby announcement to cross-promote the Jonas Brother new smartphone app, using their Instagram and Twitter accounts to urge fans to download the app and learn the news.
Kevin tweeted "@daniellejonas & I have news to share this Thur. Dwnld @jonasbrothers app 2 find out!!" and encouraged fans to vote what they thought the baby gender would be.
Kevin's parents were delighted with the news of a grandaughter, both expressing relief to finally have a girl in the family. The elder Jonas' have four sons, the three oldest of which make up the band the Jonas Brothers.
"After years of testosterone-Finally estrogen!! I am so blessed to have a granddaughter," tweeted Denise Jonas.
"Finally a girl! So happy for @kevinjonas and @daniellejonas - I am so ready to spoil this child!!!" added Paul Jonas on Twitter.
Kevin and Danielle first made their baby announcement in July. They have been married since 2009.
Formed in 2005, the Jonas Brothers gained popularity from the Disney Channel children's television network. In 2008, the group was nominated for the Best New Artist award at the 51st Grammy Awards and won the award for Breakthrough Artist at the American Music Awards. As of May 2009, before the release of albums Lines, Vines and Trying Times, they have sold over 8 million albums worldwide.