LA Lakers Rumors: Former Teammate, Kobe Bryant Visits Lamar Odom in Hospital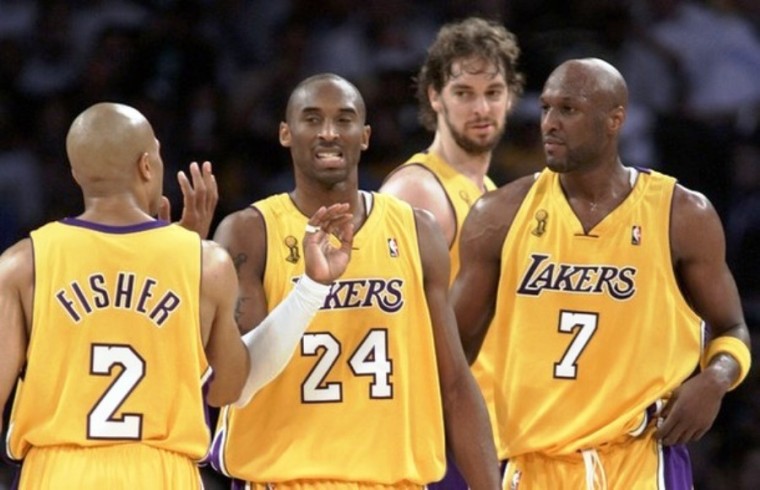 Lamar Odom's former Lakers teammates, including Kobe Bryant, have visited him in the hospital following his collapse at a Las Vegas, Nevada brothel.
Kobe Bryant rushed to his ex-teammate's side following a pre-season LA Laker's game after news emerged 35-year-old former forward, Lamar Odom suffered heart failure after taking drugs at a legal brothel in Las Vegas.
Bryant, the Lakers' current shooting guard, who became close friends with Odom during their time spent together winning back to back championships for the Lakers during the 2009 to 2010 NBA season, left immediately following the Laker's game against the Sacramento Kings Tuesday to make it to Odom's bedside.
Odom, who reportedly may have also overdosed on cocaine after a drug bender and was likewise said to have suffered from a stroke, also received a visit from former Lakers small forward and now Houston Rockets player, Trevor Ariza, as the rest of Odom's past teammates sent their prayers for their ill comrade.
He was said to have been discovered unconscious by two of the brothel's employees, and 911 dispatchers who arrived on the scene reported Odom was unresponsive and had blood and a "white substance" flowing from out his nose and mouth.
Odom was rushed to a Las Vegas hospital where he was said to have "improved slightly" after having been put on life support.
Odom, whose ex-wife Khloe Kardashian has not left his side since he was brought to the hospital after he was discovered at Dennis Hof's Love Ranch South after a four-day binge, has reportedly squeezed Kardashian's hand since his ordeal and is said to already be breathing on his own.
Other NBA players, like Miami Heat shooting guard Dwayne Wade, Jr., have tweeted their support of Odom, wishing him a speedy recovery.
Lamar Odom played for the Lakers from 2004 to 2011 where he was named "NBA Sixth Man of the Year" during his last year with the team. He last signed with the New York Knicks in 2014, but was waived after his disappointing performance with the team.