Lego Apologizes for 'Hey Babe' Construction Worker Sticker (PHOTO)
Lego Apologizes for 'Hey Babe' Construction Worker Sticker (PHOTO)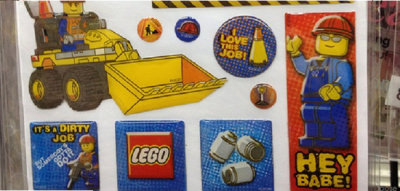 Lego has apologized to its customers after it created a sticker with a Lego construction man on it saying, "Hey, Babe!"
The controversial sticker shows the Lego man waving as the words are posted in large text across the image. However, some have complained that the sticker essentially promotes sexual harassment and stereotypes.
Josh Stearns, the father of two boys, posted the image of the Lego sticker on his Tumblr page to bring it to the attention of others, and the image soon went viral as increasing numbers of people weighed in on the controversial sticker.
Many people thought that the image was inappropriate, especially on a product primarily targeted at children.
Stearns posted the messaged: "I was so disappointed to see the brand affiliated with a product that normalized street harassment and cat calling. Needless to say, I didn't buy the stickers."
Stearns explained why he had decided to bring the sticker to the attention of others: "If we don't call out these things when we see them, then even the little pieces of culture, like a pack of stickers, can serve to normalize sexist behavior and harassment."
The complaints about the sticker quickly spread across the Internet, with some even taking to Amazon to air their thoughts. Some parents even called for the item to be dropped from the website altogether as it was offensive and inappropriate for kids.
One used posted: "This product promotes sexual harassment and archaic, harmful gender roles and stereotypes. It is inappropriate for children, and, frankly, adults as well."
Lego Senior Director Charlotte Simonsen has stepped forward on behalf of the company to quickly issue an apology for the offensive sticker.
Simonsen explained that the company responsible for making the product lost its license to manufacture the item in 2010: "To communicate the LEGO experience to children we typically use humor and we are sorry that you were unhappy with the way a minifigure was portrayed here."