LG V10 Rumors: New Phablet Features Dual Screens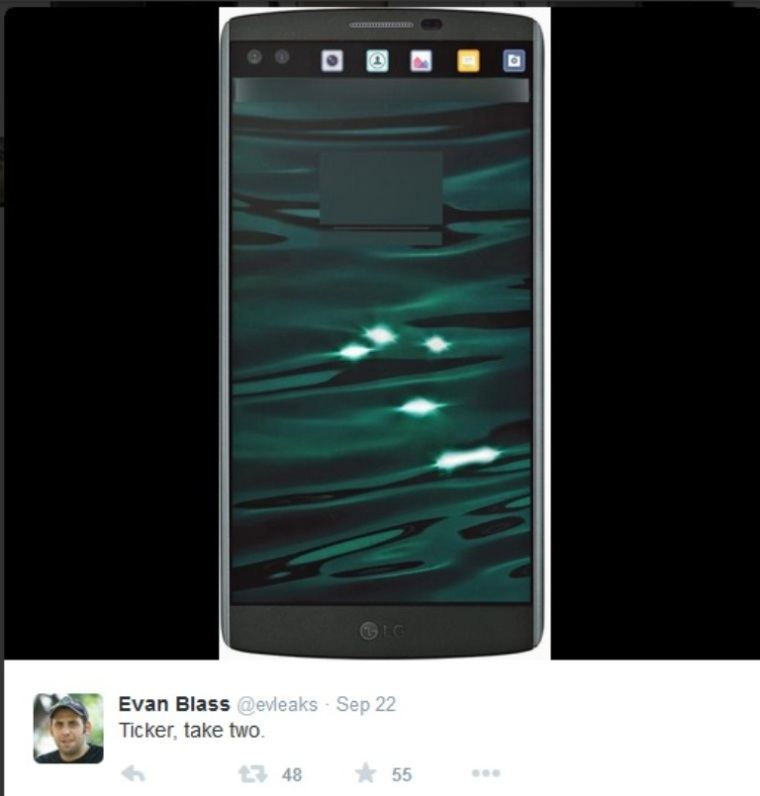 Rumors have emerged LG is readying a new phablet with dual displays that's scheduled for an official debut early next month.
South Korean smartphone manufacturer LG is rumored to have trademarked a year's worth of handsets in one fell swoop and is said to be paving the way for a dual-screen device called the LG V10.
With the LG G4 just five months old in the market and a rumored LG G5 reported to be gearing up for a holiday release, LG has been speculated to be prepping its market for a "super premium" handset which rumors earlier targeted for a late 2015 launch.
Based on the leaked dual-screen image that has recently come to light, the LG V10 may just be the "super premium" phablet rumors have been referring to.
According to popular leakster, Evan Blass, who goes by the Twitter handle, @evleaks, the upcoming device will be officially introduced to the public on October 1 in New York, at a special event LG has lined up.
Said to have an auxillary ticker display on its top screen, an image leaked by @evleaks shows the "ticker" located next to the phone's front facing snapper. While the main function of the "ticker" has yet to be announced, it is likely a shortcut icon that leads to a number of the LG V10's numerous functions, including Settings, text messaging, Contacts, Camera, and Gallery.
With its two screens, the LG V10 offers users multitasking capabilities from managing apps and contacts with a single tap. With the main top screen displaying customizable icons, the second display features favorite apps and contacts for easy access.
Speculated to be equipped with a Snapdragon 808 SoC, the LG V10 will have a 5.7-inch QHD display over 3GB of RAM, and 16GB of internal storage expandable via its microSD slot.
With its rumored October 1 launching, users may just see the LG V10, together with the LG G5, on retail and online shelves by December this year.