Mark Wahlberg Apologizes to Pope Francis for 'Ted 2' (VIDEO)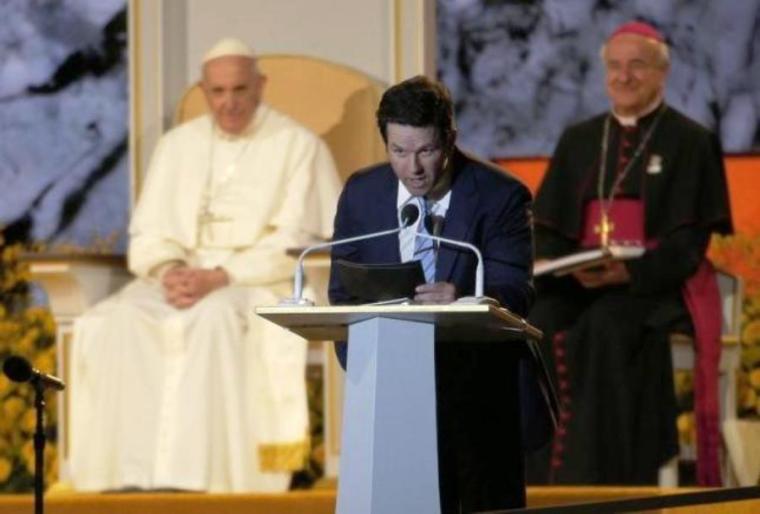 Mark Wahlberg apologized to Pope Francis on live camera for his sequel film "Ted 2" during a concert event in Philadelphia.
Actor Mark Wahlberg, who hosted a World Meeting of Families concert in Philadelphia in honor of Pope Francis' visit, begged the Pontiff's forgiveness for the sequel to his irreverent movie, "Ted 2," which was released this year.
The apology came on the heels of a revelation from 14-year-old Keystone State Boychoir opera soloist, Bobby Hill, who, after his performance, whispered to the 44-year-old actor that he enjoyed the R-rated movie about a stuffed bear that spouts obscenities, gets drunk, and uses drugs.
"I told him that was not appropriate for his age," Wahlberg noted on the podium, "Holy Father, please forgive me."
Wahlberg further said he hoped God continued to retain a sense of humor over his choice of film projects, perhaps alluding to his role as a porn star in 1997's "Boogie Nights."
Despite his apology, it appeared the Pope seemed not to understand why he was asking for forgiveness, which caused laughter from some members of the audience.
Wahlberg, a devout Catholic, surprised the crowd of nearly 300,000 as being an unorthodox choice of host for the concert, where he introduced performances from artists like Andrea Bocellli, Aretha Franklin, The Fray, and Juanes and the Philadelphia Orchestra.
In an effort to win his audience over, he cheered "Go Eagles," after introducing a pastor who used to play professionally for the Philadelphia Eagles as a running back.
Wahlberg, whose sequel "Ted 2" performed poorly at the box office, has previously been criticized by the Catholic community for his support of gay marriage and for his racially-motivated attack on a Vietnamese man in 1988 when he was 16-years-old, an offense for which he was arrested and served a 45-day sentence for assault.
In 2014, he asked forgiveness from Johnny Trinh, the victim of his attack, and pleaded for a pardon, claiming he had turned over a new leaf from his violent teenage past.