Meizu 'Blue Charm Metal' Rumors: Leaked Images of Upcoming Phablet Appear Online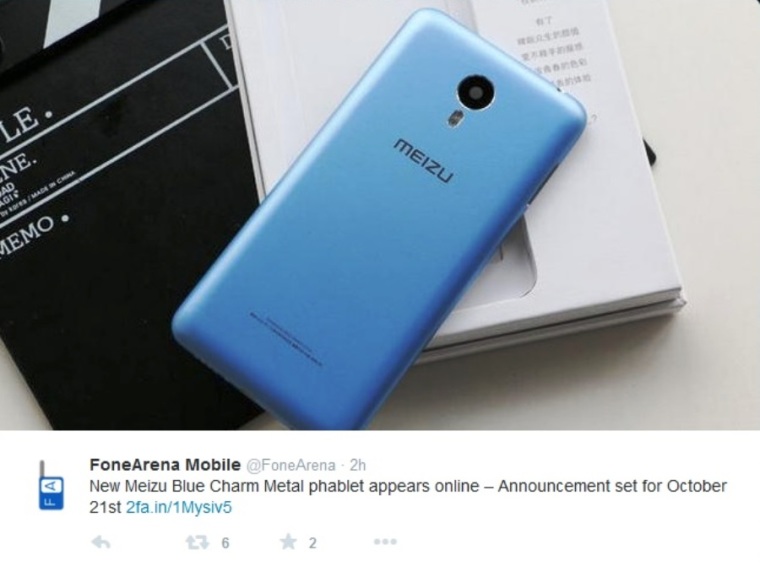 Meizu is reportedly planning to launch a new phablet this month dubbed the "Blue Charm Metal," and leaked photos of the device have already appeared online.
Chinese smartphone manufacturer Meizu is set to unveil a brand new phablet called the "Blue Charm Metal," as part of its budget Blue Charm series and is gearing up to introduce a handset with an-all blue design and an aluminum body next Wednesday.
After having recently unveiled its first premium device, the Meizu Pro 5, which is scheduled to ship Sunday after a week-long delay in production, Meizu is preparing yet another handset that will be available in a variety of colors, the most predominant of which is blue.
The 5.5-inch "Blue Charm Metal" will have a 1080 x 1920p resolution display over a 2.0 GHz octa-core CPU that will be supported by 2GB of RAM and 16GB of internal storage expandable up to 128GB via a microSD slot.
The "Blue Charm Metal" phablet will feature a 13MP rear camera, coupled with a 5MP front snapper, and will run on YunOS 3.1.6. operating system, Meizu's in-house OS.
The phablet, which is reported to be only 8.2mm thin, is set to be released during an event Meizu is planning on October 21 and while pricing details have not yet been released, rumors and the leaked images continue to show the sleek and uninterrupted metal design of the upcoming device.
Meizu earlier announced it had earmarked a total of $1.5 million in compensation for its customers after its premier flagship, the Meizu Pro 5, which had been scheduled for shipping this week, experienced a six-day delay after the company reported flooding caused by a typhoon that hit the area where its Southern China production facilities are located.
However, news further emerged that the delay stemmed from issues involving the handset's rear metal NFC panel instead of the flooding as reported.