'Metal Gear Solid 5' News: DLC Brings New Snake Skins, Horse Armor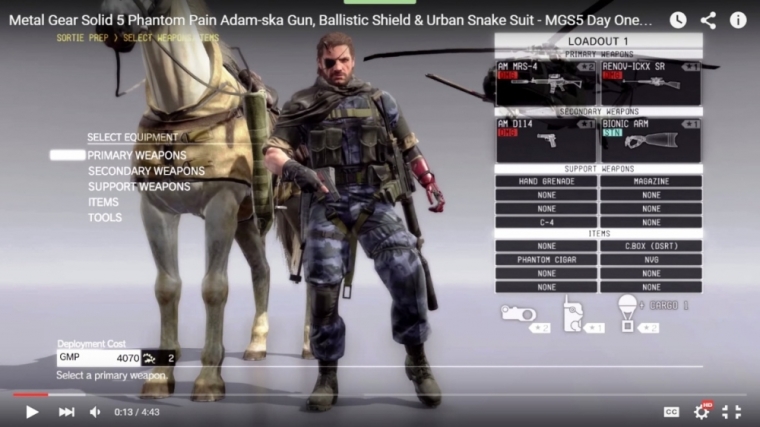 Konami has announced a "Metal Gear Solid V: The Phantom Pain" DLC, which will be bringing with it a collection of costumes and gear that will include horse armor.
Just a month after Hideo Kojima's final "Metal Gear Solid" title was released for Konami, the Japanese video game publisher confirmed an expansion pack that would include a host of cosmetic customizations, including new skins for Snake and a suit of armor for a horse.
Seven pieces of DLC gear have already been revealed, which will set players back a dollar each. The listing has been made available on the Xbox website, and includes Parade Tack and Western Tack for D-Horse to make the steed appear like one of the horses in a homecoming parade, or a mount from "Red Dead Redemption."
Snake and Quiet will also get new gear, including a James Bond-like suit and fatigues, as well as the sneaking suit similar to the one Snake wore in "Snake Eater." Quiet will be getting new combat-ready jumpsuits in the same vein as EVA and The Boss' outfits.
The new costumes, while announced as cosmetic, will give the game's characters a number of tactical advantages, such as better camouflage, body heat retention, and preventing Snake's and Quiet's body heat from being detected by enemy NVG equipment.
One of the jumpsuits can also be unzipped to the navel in another tactical advantage that shows Quiet's womanly attributes to distract enemies.
With Konami having recently launched "Metal Gear Online, which introduces even more in-game microtransactions, it may appear the publisher may be eager to make more money off its players and fans looking to hoard their in-game resources while enjoying the game's online multiplayer.
The cosmetic DLCs have already been made available on the Xbox Live Store.
There have also been rumors Konami isn't planning on releasing any more DLCs in terms of new content for the game, despite "The Phantom Pain" being one of the biggest video game titles of the year, gaining universal acclaim, and selling a total of three million physical copies within the first five days of its release alone.