Minnesota Vikings vs Washington Redskins Live Stream: Watch Online NFL Football (4.25PM ET)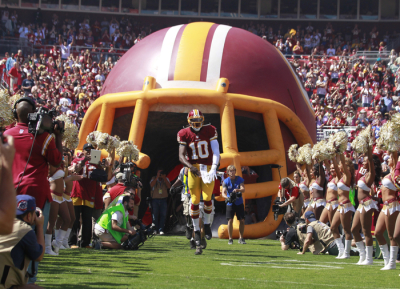 The Minnesota Vikings and the Washington Redskins come together on Sunday at the FedEx Field as the Vikings look to extend their winning streak another game. The game is scheduled to start at 4.25 p.m. ET and can be watched on Fox or alternatively can be watched online through live stream via the NFL Sunday Ticket by the link provided below.
The Vikings come into this game on the back of three straight wins. Their impressive form will have generated a lot of confidence in the Minnesota team and they will hope they can continue their run today.
It was in this game last season that Vikings' halfback Adrian Peterson was injured with a torn knee ligament. That injury was so severe that it threatened to keep him out for this season as well. However, the Vikings will be delighted that he has returned sooner than initially expected, and he has already returned to be one of the key influential players in their current run of good form.
Peterson has registered 420 rush yards and has claimed two touchdowns as well through the first five weeks of the season.
However, Peterson has not been the sole generator of yards in the Viking's offense. Wideout Percy Harvin has also been in impressive form, and has recorded 407 receiving yards, 62 rushing yards, as well as 345 kick return yards. He has also claimed three touchdowns so far this season.
Meanwhile the Vikings defense has been impressive this season. They currently rank ninth in total defense, as well as sixth in scoring and rush defense.
That defense will have to cope with Redskins' quarterback Robert Griffin III after he was given the all clear to play today following his concussion during last week's game against the Atlanta Falcons. The Heisman Trophy winner was seen in practice on Wednesday and his presence in the team will be a much needed confidence boost for the Redskins coming into this game.
The Vikings and the Redskins will face off from 4.25 p.m. ET and can be watched on Fox, or online through live stream via the NFL Sunday Ticket by clicking here.