MLB Free Agency News: Mike Napoli Signs With Indians On Minor-League Contract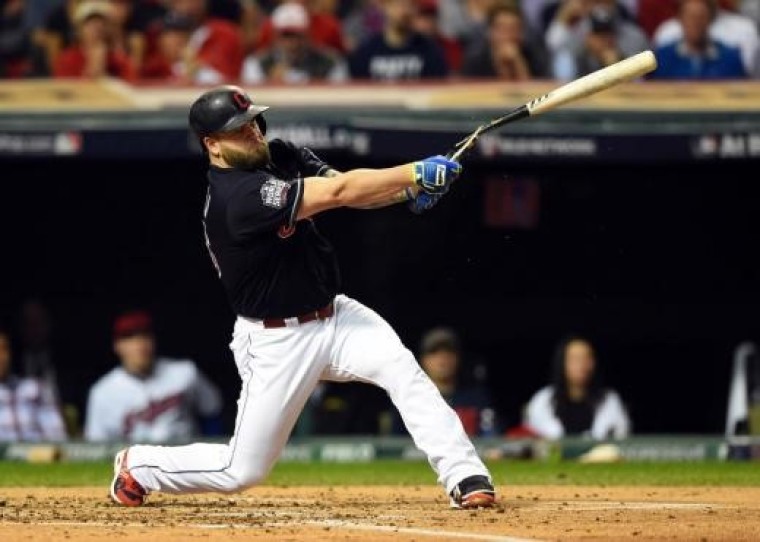 Mike Napoli is back with the Cleveland Indians after the team signed him for a minor-league contract with an invitation to spring training. He is the latest free-agent signing for the club that has been busy in recent weeks which already signed-up veteran outfielder Rajai Davis.
For his career, he owns a .246/.346/.475 line in 12 seasons with the Angels (2006-10), Rangers (2011-12, 2015, 2017), Red Sox (2013-15) and Indians (2016).
Napoli's first stint with the Indians and was the regular cleanup hitter during their run to Game 7 of the World Series. The year saw him hit .239/.335/.465 On-base plus slugging 106 and score a career high of 34 home runs.
Last year, the 36-year old first baseman slugged it out with the Texas Rangers once again, hitting at .193/.285/.428 (82 OPS+) while racking up 29 home runs in 124 games. After his stint with the Rangers, Napoli went into free agency.
However, given that one-dimensional sluggers aren't in great demand at the moment, guys like Napoli are having a hard time finding work. No wonder that when the Indians offered him a minor league deal, he was happy to take it.
Napoli also underwent surgery to repair a torn ligament in his right hand after the season. However, he expected to make a full recovery and be ready for Opening Day next month.
According to Indians reported Jordan Bastian, the organization's respect for Napoli played a big role in the signing. Manager Terry Francona also had to approach Yonder Alonso and Edwin Encarnación to make sure they knew Napoli wasn't there to take their job. The Indians have yet to officially confirm the sign up pending a physical.
In addition to Napoli and Davis, the Indians have been acquiring players left and right. The team recently added relievers Carlos Torres and Matt Belisle and catcher Ryan Hanigan on minor-league deals.