National Hurricane Center: Hurricane Sandy 2012 Continues to Grow, 700 Miles Across (Path Map)
The National Hurricane Center downgraded Hurricane Sandy to a tropical storm on Saturday, only to upgrade it again just hours later. However, regardless of the storm's strength the entire Eastern Seaboard was scrambling Saturday to prepare for torrential rains, powerful winds, as well as major flooding and widespread power outages.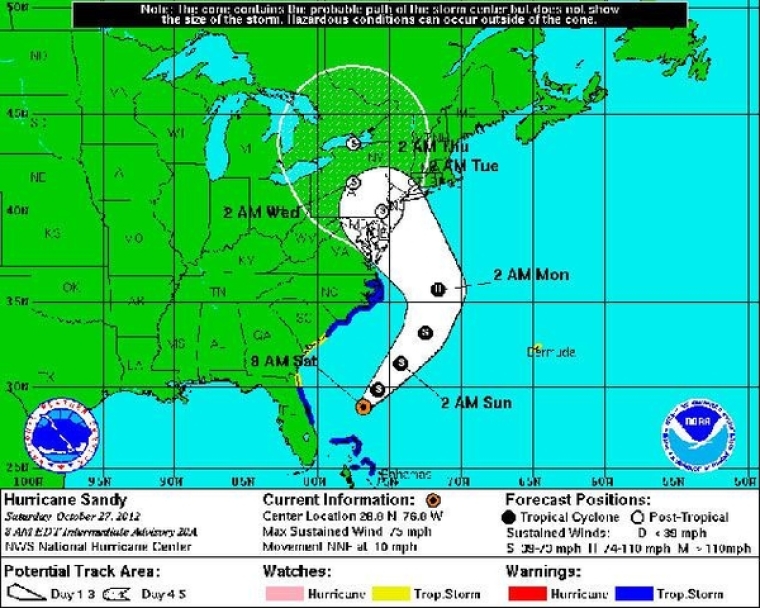 Hurricane Sandy's projected path has remained steady through Saturday and plans on how to deal with the storm across major cities such a Washington DC and New York City have been ongoing.
States of emergency have been announced across the East Coast of the United States, and in New York officials were already putting in place plans to shut down the entire subway system from 7 p.m. on Sunday if Sandy does not change it's course.
Experts have predicted that rainfall of up to 12 inches could be expected in many areas, and heavy snow could also take place.
On Saturday, forecasters predicted that Sandy would soon merge with an Arctic jet stream, which could send the hurricane spiraling into a "super storm."
If the current projected track remains steady then Hurricane Sandy could make landfall on the U.S. mainland sometime on Monday night or Tuesday morning. It is predicted the path will lead it to somewhere between Maryland and southern New England, according to Reuters.
Other models have predicted that it will make landfall somewhere between New York and Delaware.
At 11 p.m. ET on Saturday Hurricane Sandy was located about 305 miles south of Cape Hatteras, North Carolina, with top sustained winds of 75 miles per hour, according to the National Hurricane Center in Miami. The hurricane was moving northwards at about 14 miles per hour.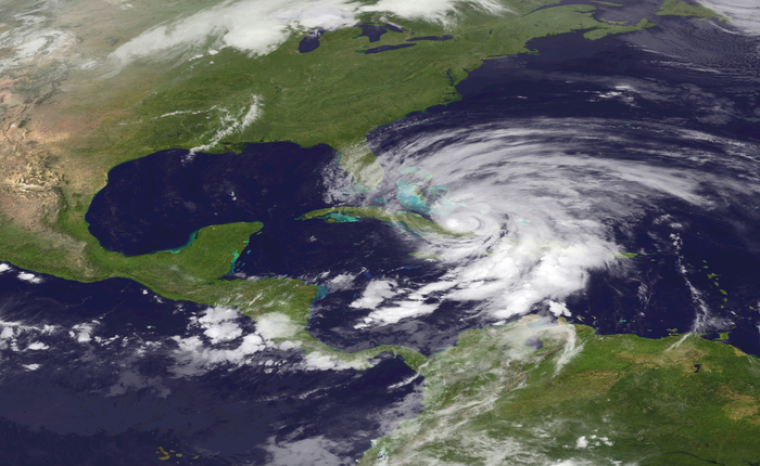 National Hurricane Center Director Rick Knabb has said, "There's no avoiding a significant storm-surge event over a large area. We just can't pinpoint who's going to get the worst of it."
Forecasters have said that flooding could be extensive, and that the storm surge could flood NYC's Subway system if it arrives in the area around Monday at 9 p.m., which is when high tide will be in the region.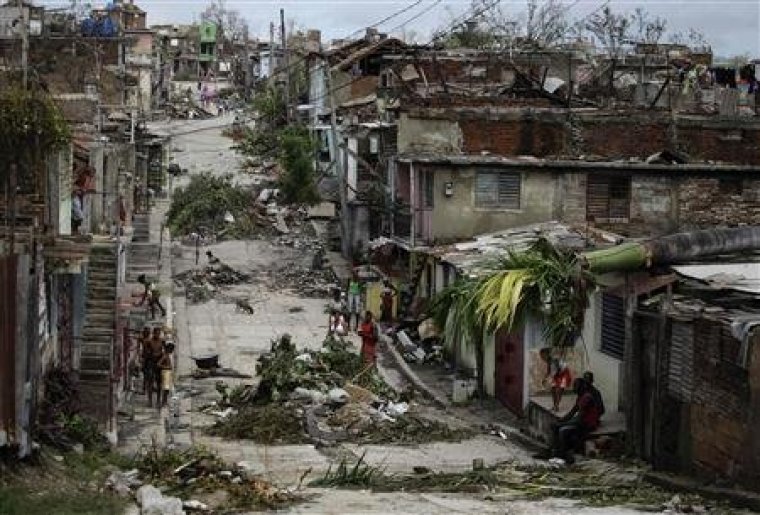 Other experts have also highlighted the fact that Monday will be a full moon, which will make high tides even higher than usual, which could add to the flood threat.
Meanwhile, throughout Saturday Hurricane Sandy was also growing in size, and wind speeds at tropical storm levels were measured across an area 700 miles across.
 New Yorkers Evacuate City ahead of Hurricane Sandy