New Kid Quits Mid-Show: Jonathan Knight Walks Off at New Kids on the Block Concert (VIDEO)
New Kid on the Block, Jonathan Knight, has quit mid-show at an event in New York earlier this week, sparking wide criticism for letting down fans at the iHeartRadio's New Kids on the Block concert.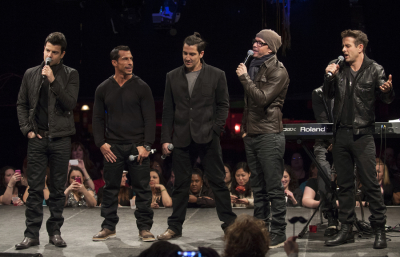 The April 4 concert did not go according to plan when Knight suddenly walked off stage alone mid-way through the concert. He has admitted in the past to suffering with social anxiety.
After his disappearance, the New Kid on the Block, took to his Twitter account to issue a simple apology to his fans, posting: "I'm sorry..."
Following the incident, footage emerged showing the 44 year old band member looking visibly uncomfortable throughout the period he was on stage.
Once Knight made his exit, fellow band members Jordan Knight, 42, Joey McIntyre, 40, Donnie Wahlberg, 43, and Danny Wood, 43, continued with the set and completed to concert for fans.
However, when video footage of the concert was analyzed afterwards Knight could clearly be seen hanging back while his fellow band mates all jumped around the stage energetically, putting on a good performance for the fans.
At one point Knight started looking at his cell phone in the middle of one song, and then for "Survive You," a song in which Knight is supposed to give a solo, he was unable to get his words out.
Wahlberg tried to make a joke out of the awkward situation, putting his arm around his band member and saying, "Jon, these people paid thousands of dollars for these tickets. For one reason. They heard that you're singing on this record."
Knight gave an awkward laugh and then walked off stage as he shook his head. His band members tried to remain professional and told fans that Knight would be back in stage soon, but he never reappeared despite the crowd cheering his name in support.
McIntyre also tried to make a joke to help out the awkward situation, telling fans that maybe Knight had locked himself in the bathroom.
In the past Knight has admitted to suffering from panic attacks and social anxiety. He told Oprah in an interview more than a decade ago: "The whole New Kids thing was crazy. The more it grew, the more I just felt like I was trapped. I just always had this feeling inside me of always being nervous and afraid of situations."
"From 1994 to 1997, I did nothing, I slept and slept and slept. If I was awake, I had to deal with things, I had to do things. In order to avoid that, I would just stay in bed. You go through the whole thing, too, like 'I'm weird or I'm strange,' and it just makes your whole self shrink down even more."
Knight has seemingly overcome his alleged anxiety and on Friday he appeared with his band members on the Today show to perform "We Own Tonight."
Here is video footage of the New Kids on the Block concert where Jonathan Knight walked off stage mid-show: