Nexus 9 vs. iPad Mini 3 Comparison: The Battle of the Mini Tablets Begins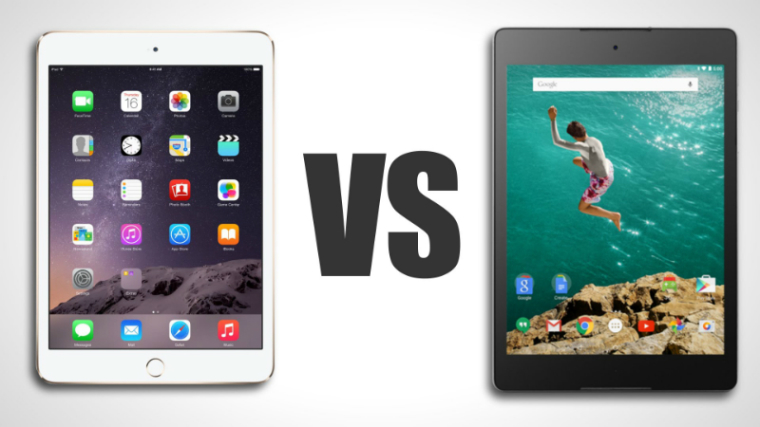 The tech world has been bustling with life this week as two of the most awaited events take place.
First, there's the release of HTC-manufactured Google Nexus 9 powered by the recently-launched Android 5.0 Lollipop OS. Of course, there's also Apple Inc.'s official unveiling of the iPad Mini 3 with its larger sister, the iPad Air 2.
Both the HTC Nexus 9 and the iPad Mini 3 will surely see big demands soon as they hit the store shelves.
As of now, let's see how the two fare with each other.
Display
The iPad Mini 3 is reported to featurea 7.9-inch display with 2048 x 1536 resolution running 324 ppi. On the other hand, the HTC-made Nexus 9 had an 8.9-inch display of 2048 x 1536 resolution running 281 ppi.
Size
When it comes to sizes, the two proved to be way different from each other. The Cupertino-based tablet arrives with a 7.5 mm thick aluminum body, while the Google's device have a bigger 7.95 body covered with a soft, matte-finished back cover and brushed metal edges.
Specs
Talking about under the hood, the iPad Mini 3 features a dual-core 1.3GHz Apple A7 chipset, 1 GB of RAM, and an M7 motion co-processor. The Nexus 9 was seen sporting with a powerful 64-bit Tegra K1 2.3 GHz dual-core CPU paired with Kepler DX1 GPU and 2 GB of RAM.
For the cameras, the Apple product settled with a 5MP back-facing snapper and a 1.2MP front-facing camera. The one from Google had an 8MP primary camera, while its front is attached with a 1.6MP secondary snapper.
Pricing
The Wi-Fi only iPad Mini variant will start with $399 for the 16GB model, $479 for the 32GB model, and $599 for the 128GB model. For its 4G LTE variant, it will be sold at prices $529 (16GB), $629 (32GB), and $729 (128GB).
For Nexus 9 tablet, it will come off with a price tag of $399 for the 16GB model and $479 for its 32GB Wi-Fi Only variant. Its 4G LTE option costs around $599.
Release Dates
Both tablets are said to have already been made available for pre-order last Oct. 17. Apple is expected to display their new tablet sometime next week while Google opted for a Nov. 3 store release date.