NFL News: Jimmy Garoppolo, 49ers Officially Sign 5-Year Extension Deal
NFL News: Jimmy Garoppolo, 49ers Officially Sign 5-Year Extension Deal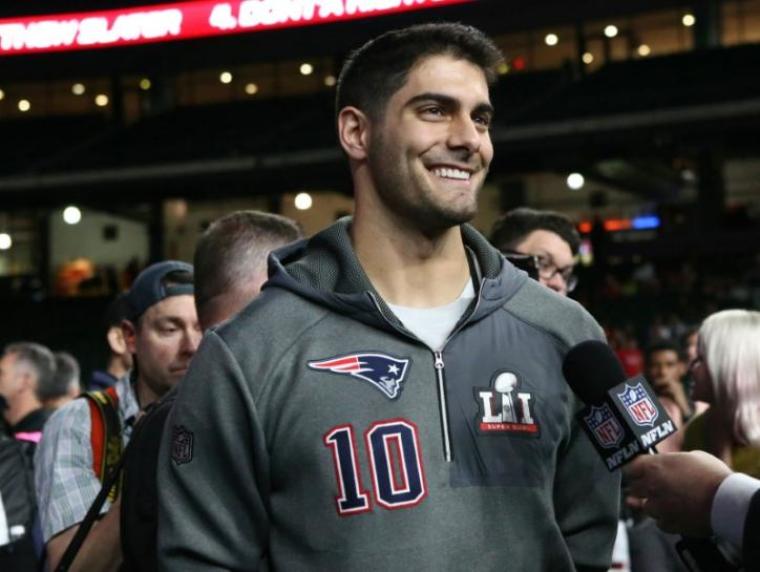 National Football League quarterback Jimmy Garoppolo and the San Francisco 49ers have officially signed a deal that extends the player's stay at the Bay Area for the next five years.
As was reported in the previous weeks, Garoppolo will not be entering the free agency next month after he officially signed a five-year contract with the Niners, both parties confirmed in a press conference held on Friday.
The financial details of a player's contract are - by policy - not announced to the public. However, Mike Garafolo of NFL.com reported that Garoppolo's contract cost the Niners $137.5 million, which is believed to be the highest per annum average pay for any NFL player in history.
Garoppolo has been reportedly paid $48.7 million upon signing as part of the initial two years pay that amounts to $61.2 million. The contract also comes with a no-trade clause for him which is effective at the beginning of the contract's fourth season, which lands on 2021.
In the press conference on Friday, Niners officials were obviously happy to announce that their starting quarterback would be staying in their franchise. San Francisco's general manager John Lynch said they did not intend to wait to make the deal happen after determining that Garoppolo wanted to stay in the team and the organization felt the same.
Garoppolo arrived in San Francisco after a trade was signed last October. It is safe to say that the deal greatly helped both the team and Garoppolo as the player went from being Tom Brady's (New England Patriots) backup to becoming responsible for a record-breaking five winning streak for the Niners, which was very crucial for a team that was evidently struggling before he arrived.
Lynch also discussed their option of designating their franchise tag on Garoppolo but the Niners GM said they opted not to use it.
"We wanted to make Jimmy a 49er for a long, long time. Do you have to have some faith for that? Absolutely, but he earned that faith that we have in him," Lynch said.
Fortunately for the Niners, Garoppolo was also convinced that he wanted to continue playing for the Niners. "I knew I wanted to be here, it was just a matter of getting everything figured out and I think we did that fairly quickly this offseason," Garoppolo said at the press conference. "I'm excited about it that it got done so fast and it's an exciting time right now."