NJ Man Calls 911 to Speak to Tim Tebow While Claiming to Be President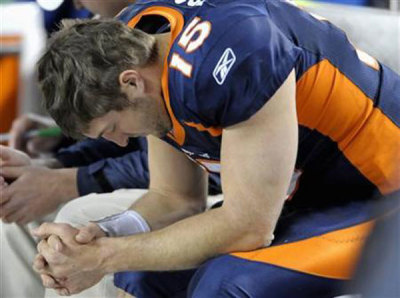 A New Jersey man has been arrested for calling 9-1-1 in an effort to get in touch with NFL star Tim Tebow while also claiming to be the president.
Jason Slater, 28, called 911 on June 10 claiming he was the president and demanding to speak with New York Jets backup quarterback. Slater called 911 several times and proceeded to call his local police headquarters before the authorities traced the call back to Hopatcong, N.J., where the man lives with is mother.
Officers went to the home to ensure there wasn't an emergency and found Slater hiding in his mother's closet under pillows and clothes. Slater was not friendly to the officers and spewed expletives at them, according to reports.
Slater was arrested and charged with making false public alarms and also for hindering police in his arrest. He was later charged for littering after he threw his summons on the ground and refused to pick it up.
It is unclear why Slater called 911 pretending to be President Barack Obama or what exactly he had to say to Tebow.
The Christian athlete was traded to the New York Jets in March after serving as quarterback for the Denver Broncos. When news of the trade broke, Tebow said he was "excited" to be signing with the team and moving to New York.
There was speculation among some fans that Tebow might eventually replace Jets quarterback Mark Sanchez as the starter, but Jets General Manager Mike Tannenbaum denied the claims.
"Mark Sanchez is, has been and will be our starting quarterback," the GM told ESPN. He reportedly revealed that he had spoken to both Tebow and Sanchez to explain their respective roles.