Obama Heckler Begs the President to Halt Deportations After Family Was Separated (VIDEO)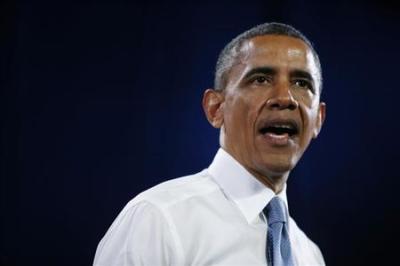 With talks involving immigration reform stalled President Barack visited California to spread confidence that he is still working to get a deal done.
During the speech Obama was interrupted by a heckler who shouted to the president the hardships his separated family has faced for nearly two years.
"Mr. Obama," said the audience member, an undocumented immigrant from South Korea who is a graduate student in San Francisco, "my family has been separated for 19 months now. I have not seen my family. Our families are separated. I need your help."
"There are thousands of people [whose families] are torn apart every day," the heckler went on. "Mr. President, please use your executive order to halt deportations for all 11.5 million undocumented immigrants in this country right now."
Rather than waiting for security to remove the man the president directed security personnel to stop and when the man was finished, directly responded to him.
The president told the man that he did not have the power to unilaterally act and that as a nation of laws political actors of both parties need to come together to solve the problem.
"Now, what you need to know, when I'm speaking as president of the United States and I come to this community, is that if, in fact, I could solve all these problems without passing laws in Congress, then I would do so," Obama said.
"But we're also a nation of laws," he went on. "That's part of our tradition. And so the easy way out is to try to yell and pretend like I can do something by violating our laws."
"And what I'm proposing is the harder path, which is to use our democratic processes to achieve the same goal that you want to achieve. But it won't be as easy as just shouting. It requires us lobbying and getting it done."