Octomom on Welfare: Nadya Suleman Unable to Pay Bills Again (VIDEO)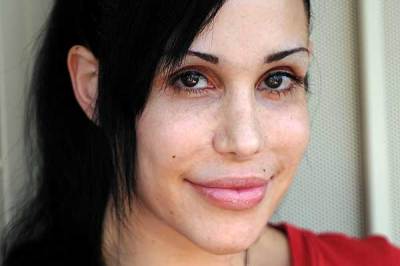 Octomom is back on welfare, according to new reports out on Sunday.
According to celebrity rumor site TMZ, Nadya Suleman is unable to make ends meet and is unable to pay her bills and has gone back on welfare.
Just five months ago it was reported how Suleman had finally managed to get herself off welfare and her financial situation was improving. She had come under criticism for the way in which she was improving her finances though, and the Octomom was involved in a number of reports about sexualized ways in which to earn money, including taking part in a porn movie.
Suleman had previously stated that she would never do adult entertainment as a way to support her family, but she appeared to later change her mind and has gone more in that direction over the past year or so.
It had appeared as though Suleman's financial situation had improved after some large pay outs from her work, however, the new TMZ report released on Jan. 6 shows that she is again struggling with finances and she has now allegedly gone back on welfare.
According to the report, Suleman will receive $1,800 a month to spend on food, plus another $1,000 for emergency cash.
Just last summer the so-called Octomom, single mother of 14 children, sparked controversy and debate after making her debut as a stripper in a Florida gentleman's club. Many had suggested that the move showed her continuing downward moral spiral following her previous stint in the adult entertainment industry.
Suleman has received huge criticism over the years for having IVF treatment to the extent of having 14 children despite not having a husband, and despite not having any prepared means to support her large family.
Here is a previous interview with Octomom, Nadya Suleman, on The View: