OnePlus X Ceramic Limited Edition Arriving This Week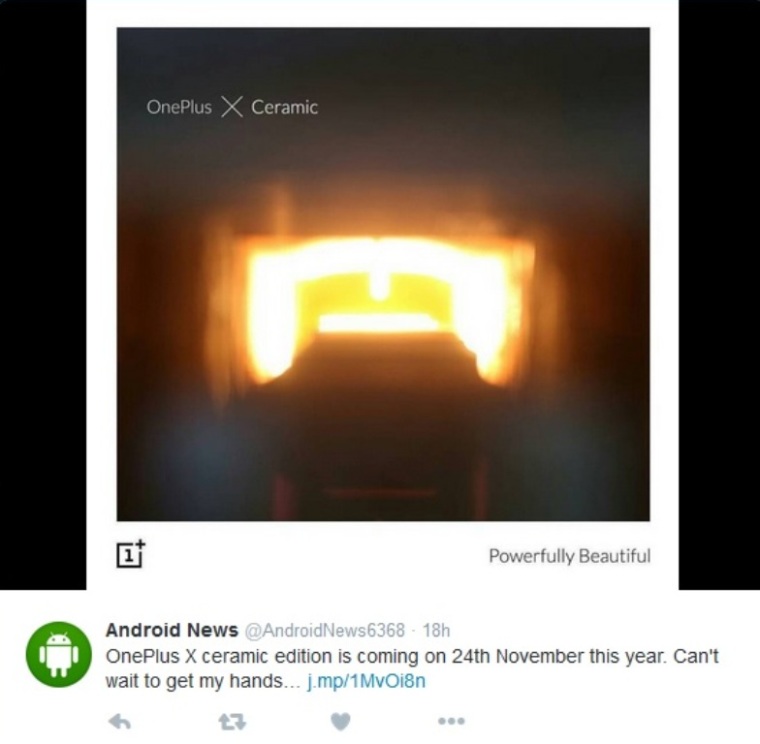 A new and exclusive version of the OnePlus X known as its Ceramic limited edition is reportedly ready to launch early this week.
After Chinese smartphone manufacturer OnePlus released the glass iteration of its OnePlus X, it has announced it will soon be offering the public a new and exclusive version, the ceramic limited addition that's scheduled to launch this November 24, just a month after OnePlus launched its glass-clad Onyx version.
As with all its other handsets, the OnePlus X Ceramic limited edition will require an invitation to purchase the handset, which will be priced between $392 to $408, depending on the user's location.
The OnePlus X Ceramic limited edition will not be made available in North America and only 10,000 units will be produced, so it won't be long before supply runs out for this exclusive version of the smartphone.
The limited supply may have to do with the amount of time it takes to transform Australian zirconia into the material that makes up the OnePlus X Ceramic, involving a 25-day process that includes exposing the zirconia to 1,480 degree Celcius temperatures for up to 28 hours, according to the OnePlus website.
Apart from the manufacturing process its framework undergoes, the OnePlus X Ceramic carries the same specs as its glass-surrounded Onyx iteration. The handset features a 5-inch 1080p resolution touchscreen display over a 2.3GHz quad-core Qualcomm Snapdragon 801 SoC, 3GB of RAM and 16GB on-board storage expandable up to 128GB via microSD card under the hood.
It also carries a 13MP rear camera with an f/2.2 aperture and flash, and an 8MP front snapper with an f/2.4 aperture. With a dual-SIM function, the handset run on Android 5.1.1 Lollipop out of the box, supports 4G LTE, and has a non-removable 2,525 mAh battery.
The OnePlus X Ceramic limited edition will not have the expected fingerprint scanner, but it will weigh 160 grams over the Onyx variant's 139 grams.
The OnePlus X smartphones will have several cases available as accessories, including Sandstone, Karbon, Bamboo, Black Apricot, and Rosewood variations.