Pope Francis News: Meets with sex abuse victims: 'God weeps'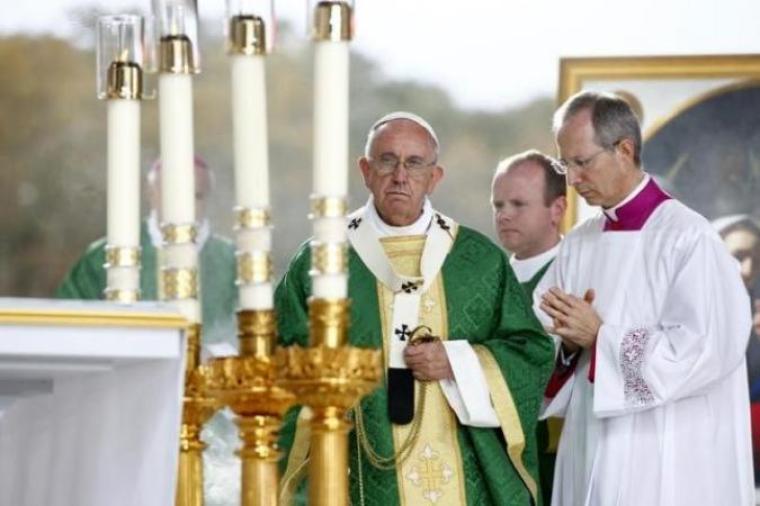 Pope Francis met with the victims of sexual abuse by Roman Catholic clergy on the last day of his U.S. visit and vowed to hold accountable the people who committed and covered up the crimes.
On Sunday, Pope Francis listened to the stories of the children who survived sexual abuse at the hands of Roman Catholic clergy to wrap up his six-day stay at the U.S. The Argentine pope also held Mass outside the Philadelphia Museum of Art in front of more than a million people, according to Reuters.
The 78-year-old pontiff addressed the crowd in his native Spanish after his private meeting with the five sexual abuse survivors. He told the bishops in Philadelphia that the "suffering and pain" of the three women and two men abused by clergy bore a mark in his heart, the report details.
"This disgrace keeps burdening me, that the people who had the responsibility of caring for these tender ones raped them and caused them great pain," Reuters quotes Pope Francis' statement to the bishops of Philadelphia. "God weeps for the sexual abuse of children."
Pope Francis condemned the acts done on the five minors and vowed that "all responsible will be held accountable," the Washington Post reports.
Earlier, the pope had been slammed by abuse victims after he spoke about the sex abuse scandal on Wednesday and praised bishops for their "courage and commitment" to help the victims heal. The pontiff had not yet acknowledged the scandal as "sexual abuse" at the time but he lamented the pain that the crimes had inflicted on the victims.
On Sunday, Pope Francis talked with the victims and expressed his regret that some bishops abused children and some had failed to protect them. He said he was "profoundly sorry" that so-called trusted church officials had violated their innocence, and for the time that no one believed their stories. He consoled them by saying God heard their cries and believes them, the report relays.
Two or three of the victims had suffered sexual abuse at the hands of priests or Catholic teachers, while the rest were abused by a family member or a non-Catholic educator, Vatican spokesperson Federico Lombardi said.
In 2002, reports surfaced about priests in the U.S. who had abused children sexually and covered up their crimes. After a few years, similar reports emerged in other countries, seriously damaging the reputation of the Catholic Church worldwide and resulting in expensive legal settlements.