Prince Harry Told by Prince Charles Don't Apologize for Nude Scandal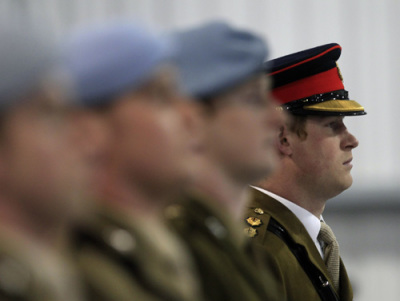 Prince Harry will not be issuing a public apology for the nude scandal that broke last week. His father, Prince Charles, has instead told him to keep a low profile and rejoin his military unit in Afghanistan.
"Charles doesn't believe there's any need for a public apology and instead said to Harry that he should go to Afghanistan as soon as he makes an appearance at the Paralympics and join his rank. The quicker he goes out there, the sooner this will all blow over," a palace insider allegedly told Radar Online.
Harry had been planning to make a formal, public apology for his antics, which brought embarrassment to him and the royal family. During a wild party in Las Vegas, the younger prince was photographed nude. Since then, others have come forward and have tried to sell their own alleged photos.
The Palace, meanwhile, has refused to comment and is very familiar with handling public scandal. Several years ago, Prince Harry was photographed wearing a Nazi uniform and since then has been known as the "partying prince." His role as third in line to the throne, behind his brother, Prince William, has afforded him a greater sense of freedom.
One thing that Harry has always taken seriously, though, is his military career. He has enjoyed being a member of his unit and even spent time on the front lines last year. It was the first time a member of the royal family has done so, and Harry is eager to return to his unit.
"Of all the royal family, Charles was the most accepting of Harry's behavior. In his younger years, he was just as much a playboy as Harry is now, so he's more understanding when it comes to this sort of thing," the source said.
After all, Prince Charles was known as the "playboy prince" before settling down with Harry's mother, the late Princess Diana. Even then, though, the scandals did not stop since Charles pursued a relationship with, and eventually married, Camilla Parker Bowles.
 Prince Harry Poolside in Las Vegas Amid Scandal