Prince Harry's Party Girl in Jail, Prince Returns to Afghanistan
Carrie Lynn Reichert spent a wild weekend with Prince Harry, but now she may be spending time behind bars. Reichert was arrested on August 24 on a felony warrant for writing bad checks.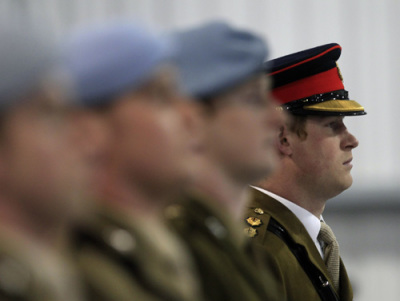 Reichert was attempting to board a plane in San Diego but was stopped by authorities and taken into custody. She may be a recognizable figure for inmates after spending a well-documented weekend with Britain's Prince Harry. Reichert was one of the members of the entourage that cavorted in Las Vegas.
She ended up telling everything about the weekend to several magazines, bringing her a bit of time in the spotlight. Yet whatever amount Reichert earned was not enough to cover checks she had written dating back to 2003.
"How stupid can you be? You know you've got warrants on bad checks you've written. And you know we're checking everyone on the flight," an anonymous law enforcement source told New York's Daily News.
"Customs matched her up at the airport," the source revealed. "She was fixing to go out of the country, but we had them snatch her up. She didn't get to go on her little weekend adventure."
Instead, Reichert will be spending time at a detention center in California, waiting her time before a judge. If found guilty of all charges, Reichert could spend at least one year in jail. The amount of Reichert's bad checks totals $21,672, according to the Daily News.
Meanwhile, Prince Harry has been reunited with his military unit and is back in Afghanistan, flying the Apache helicopters he loves. The Prince arrived early this morning to begin another tour of duty.
"Prince Harry, like any soldier, considers it a great honor to represent his country in Her Majesty's armed forces wherever it chooses to deploy him," a St. James' Palace spokesman said. "He's approached the deployment with a range of emotions like any other soldier and feels both pride and anticipation as he deploys for a job he's trained for, for so long."
 Prince Harry Poolside in Las Vegas