'Red Dead Redemption 2' Sequel Rumored to Feature Battle Royale Mode
'Red Dead Redemption 2' Sequel Rumored to Feature Battle Royale Mode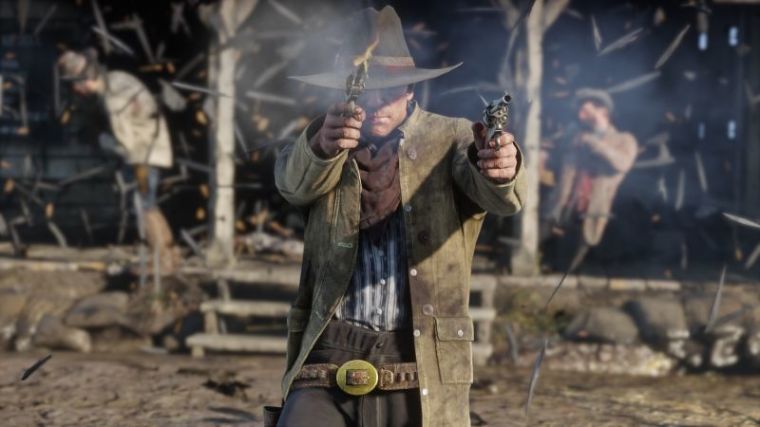 There are still many details left unannounced about "Red Dead Redemption 2" which leaves space for rumors that the upcoming sequel game could feature a battle royale mode.
In the past few months, "PlayerUnknown's Battlegrounds" and "Fortnite" have become some of the most played titles mainly because of their well-designed battle royale gameplay.
According to Steam Charts, in the past 30 days, the number of active players for "PUBG" has peaked at over 2.9 million while the game has been played for more than 1 billion hours. Meanwhile, earlier in February, "Fortnite" topped "PUBG's" all-time record of concurrent players after it surpassed the 3.4 million mark.
The success of these games that mainly rely on their battle royale gameplay also makes it easier to speculate that Rockstar Games and its parent company, Take-Two Interactive, could consider introducing the same element to "Red Dead Redemption 2."
Trusted Reviews previously reported about documents they had obtained that contained development notes for "Red Dead Redemption 2." The papers purportedly mentioned at least three types of gameplay in the title's online mode including battle royale.
The same report noted that it has yet to be confirmed how Rockstar Games will bring its own spin to "Red Dead Redemption 2's" rumored battle royale mode and if it is going to have similar mechanisms as those of "PUBG" and "Fortnite."
According to the publication, it actually acquired the said development notes in August 2017 but decided not to publish them since it was unable to get further confirmation at the time. However, the release of the official teaser photos for "Red Dead Redemption 2" gave Trusted Reviews the green light that the papers could be real as the appearances of both Dutch Van Der Linde and Arthur Morgan proved to be the same as the ones it had. 
Meanwhile, it is also important to note that Rockstar Games is not new to developing battle royale modes for their titles. Screen Rant pointed out that the video game company actually introduced it to "Grand Theft Auto V" in 2017 through the Smuggler's Run DLC, and it was named Motor Wars at the time.
"Red Dead Redemption 2" will arrive on Oct. 26.