Rihanna's Mullet Haircut and New Clothing Line (PHOTOS)
Rihanna has unveiled her most recent hairstyle, this one on the verge of cutting edge- or possible dread.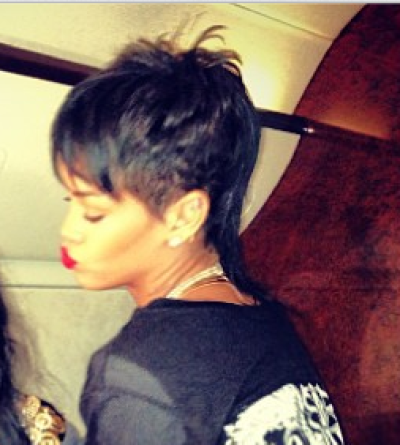 The fashion forward singer who is largely credited with popularizing the short bob, a hairstyle now commonly worn by many women, has unveiled an even edgier new look. Her new hairstyle appears to be a pixie cut in the front, but from the back long strands have been drawn out to cover her neck.
The singer revealed photos of her rocking the new hairstyle on her Instagram account. One photo, posted two days ago, has already gathered more than 348k likes. In other photos with her new hair, the singer can be seen boarding a private jet with a friend.
A number of fans were supportive about the singer's new look, stating that they "loved" the new hair. Others however, appeared less convinced. In a Huffington Post poll that questioned whether Rihanna's new look was Rih-markable or Rih-grettable, nearly 67 percent agreed that the new haircut was a mistake. Us Weekly called the new look a combination between a "mullet" and a "rat tail."
The new style is one of many that the singer has debuted within the past year. Over the weekend, the R&B singer was also showing off clothes from her new clothing line, River Park. The collection includes camouflage and midriff-baring tops and long skirts with bold stripes, as well as intimates with "RiRi" and "G4LIFE" written on the bands.
Attempting to pull off a "New York street vibe" the singer said she was inspired by clothes that she likes to wear on a daily basis.
"I literally designed everything I want to wear - exactly how I want to wear it," the singer said in a behind the scenes interview according to the New York Daily News.