Robbie Knievel Arrest: Stuntman Accused of Bashing Motor Homes, DUI (VIDEO)
Robbie Knievel Arrest: Stuntman Accused of Bashing Motor Homes, DUI (VIDEO)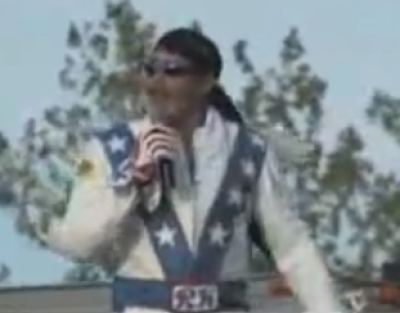 Evel Knieval's son, Robbie Knieval, was arrested on Tuesday in South Dakota for allegedly going on a "drunken rampage."
The son of the stunt man was staying at the Buffalo Chip camping ground in South Dakota, where many people stay in preparation for the Sturgis Motorcycle rally. Officials of the campground call police at around 6 p.m. alleging that Knieval was breaking in to other people's motor homes, TMZ said in a report.
Witnesses told TMZ that Knieval, in a drunken state, "smashed into two other motor home units on the property, breaking a mirror and a bumper, and then tore out of the property without stopping." Knieval was found in his RV at a nearby parking lot.
While Knieval claimed to police that he had only consumed three drinks, a Breathalyzer test revealed that he was at more than three times the legal limit in South Dakota. The stuntman was then taken to a nearby jail where he was fined for $600 in damages. His license was also suspended for 30 days. He was released from prison later that night.
In his career as a stuntman, Robbie has completed over 350 jumps and broken at least 20 records. He began working with his father in stunt shows when he was only eight; by the age of 12 both he and his father would go on tour. But Robbie has a preference for using high performance, Honda motocross bikes, whereas his father preferred to use the much heavier Harley Davidson.
The father-son duo split after Robbie decided he wanted to attempt lengthier jumps. Evel Knieval performed jumps from 1965-1980, with his peak beingthe '70s.
Some users suggested that Robbie's antics were outdated and showed a lack of maturity.
"I can't believe this guy is still relevant. Evil Knievel and son are so 70s," one user wrote on the TMZ blog.